ltmcd2408.jpg
Paul Haig \ Rhythm of Life + New York Remix [LTMCD 2408]
Recorded in New York and London by renowned producer Alex Sadkin, Rhythm of Life is the debut solo album by Paul Haig, originally released by Les Disques du Crépuscule in 1983.
The nine polished electro-funk cuts feature a stellar cast of guest musicians including Bernie Worrell (Parliament/Funkadelic), Anton Fier (Feelies/Golden Palominos) and Tom Bailey (Thompson Twins). The album also boasts four singles - Hewaven Sent, Blue For You, Never Give Up and Justice - along with standout track Adoration (originally performed by Josef K).
The five bonus tracks are taken from the 1984 mini album New York Remix, mixed by Bruce Forest. 70 minutes of music in total.
Tracklist:
1. Heaven Sent
2. Never Give Up (Party, Party)
3. Adoration
4. Stolen Love
5. Don't Rush In
6. Blue For You
7. In The World
8. Justice
9. Work Together
10. Heaven Sent (NY Remix)
11. Blue For You (NY Remix)
12. Never Give Up (NY Remix)
13. Stolen Love (NY Remix)
14. Justice (NY Remix)
LTM version deleted. CD now available as TWI 188 CD from Les Disques du Crépuscule.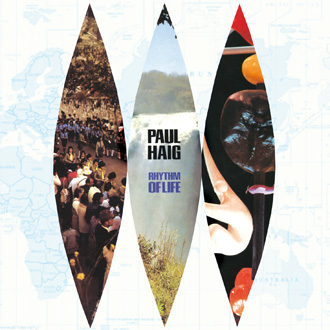 Reviews:
"Since Josef K split Haig has pursued several lines, but this northern maverick is still well on the case. In the World maps out melancholy better than anybody this side of New Order, and Justice still remains his greatest solo shot" (NME, 1984)
"The turn of the Eighties ought naturally to have been the urbane Mr Haig's time. He was the discerning pop practitioner, playfully serious, ironically intense, equally at home discussing books or films as he was his music" (Melody Maker, 1989)
"If you're looking to find some synthpop you may have missed back in the day this is a good place to start, although this album isn't quite as infectious as some huge Eighties staples like Erasure, New Order and Depeche Mode" (Amazon)