Cool As Ice: The Be Music Productions [LTMLP 2377]
Cool As Ice is a compilation of classic electro and dance cuts produced by Be Music, the tag used by all four members of New Order. Most were produced between 1983 and 1984 for release on Factory and Factory Benelux.
Section 25, Marcel King, Paul Haig and Quando Quango were co-produced by Bernard Sumner and Donald Johnson of A Certain Ratio (aka DoJo). Nyam Nyam and the Be Music Theme were produced by Peter Hook, and Life, Thick Pigeon and Can't Afford by Stephen Morris and Gillian Gilbert.
2xLP tracklist:
A1. 52ND STREET Can't Afford (To Let You Go)
A2. SECTION 25 Looking From a Hilltop (Megamix)
A3. LIFE Tell Me
B1. MARCEL KING Reach for Love
B2. QUANDO QUANGO Love Tempo
B3. THICK PIGEON Babcock + Wilcox
C1. 52ND STREET Cool As Ice
C2. PAUL HAIG The Only Truth
C3. BE MUSIC Theme
D1. QUANDO QUANGO Atom Rock
D2. NYAM NYAM Fate/Hate
D3. SECTION 25 Beating Heart
Vinyl version is SOLD OUT. More Be Music productions feature on companion volume Twice As Nice [LTMCD 2399].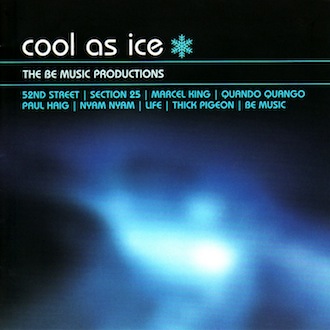 Reviews:
"Album of the fortnight! The tracks by 52nd Street and Section 25 are brilliant" (DJ Magazine, 08/2003)
"Electroclash fans take note!" (Magnet, 03/2005)
"These are significant events in the British electronica timeline - Cool As Ice was effectively the first electro-funk single made in Britain. Four stars" (Uncut, 11/2003)
"Innovative electro and club curios. Marcel King should have had a major hit with Reach for Love" (Q Magazine, 10/2003)
"Essential - New Order's invisible history" (Les Inrockuptibles, 10/2003)
"Includes necessary club classics like Looking From A Hilltop, Love Tempo and Cool As Ice. A necesary compilation for those wishing to explore Manchester's very important contribution to dance music, and an amazing and often overlooked facet of one of the 80s most influential bands - New Order" (Other Music, 08/2003)
"A frankly magnificent compilation, at times this is new technology in search of itself. Reach for Love by Marcel King is pure Soul by any definition. Genius" (Glasgow Herald, 09/2003)
"Playful and ecstatic, and allows us to ponder what New Order might have sounded like if they'd come out of Manchester's R&B scene" (Exclaim!, 08/2003)
"Excellent. While we're familiar with the magic New Order frequently conjured when working on their own music, the majority of the 12 selections here leave you in little doubt of their capabilities on the other side of the studio glass. Crucial stuff abounds, especially 52nd Street (Can't Afford) and Quando Quango (Love Tempo). Rediscovery is essential" (Whisperin' & Hollerin', 08/2003)
"The familiar seal of quality is apparent all over this work, and the songs themselves still hold a lot of relevance" (Leonard' Lair, 10/2003)
"These tracks still sound fresh. Know why? Many of these songs have rhythms that have been sampled, borrowed or stolen, and these mixes prove that New Order were a significant force to be recknoned with in the underground dance world. This compilation certainly shows how ahead of the game they really were" (mundanesounds, 08/2003)