ltmcd2332.jpg
The Wake \ Here Comes Everybody + Singles [LTMCD 2332]
Here Comes Everybody is The Wake's second album for Factory Records (Fact 130), originally issued in 1985.
This expanded version includes all eight tracks produced at Revolution Studios by Oz, as well as three non-album singles issued by Factory: Talk About the Past (Fac 88), Of the Matter (Fac 113) and Something That No One Else Could Bring (Fac 178). Stand-out song O Pamela has been covered by Nouvelle Vague, while Melancholy Man was selected by MGMT for their Late Nite Tales compilation.
Original sleeve artwork and liner notes.
Tracklist:
1. O Pamela
2. Send Them Away
3. Sail Through
4. Melancholy Man
5. World Of Her Own
6. Torn Calendar
7. All I Asked You To Do
8. Here Comes Everybody
9. Talk About the Past (12" version)
10. Of the Matter
11. Gruesome Castle
12. Pale Spectre
13. Furious Sea
14. Plastic Flowers
15. Everybody Works So Hard
16. Of the Matter (version)
Available on CD and digital download. Please note that this LTM edition has now been replaced by the double disc remaster on Factory Benelux (FBN 35 CD)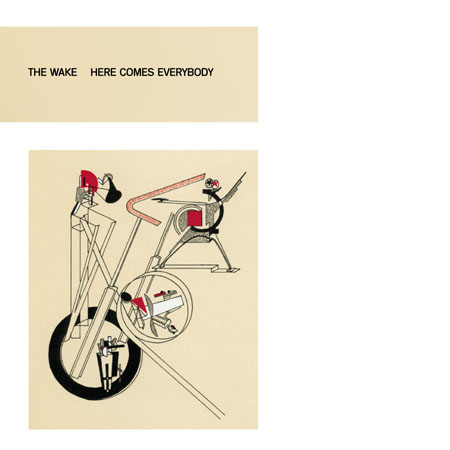 Reviews:
"Here Comes Everybody holds up as a touchstone for aching, atmospheric synth-pop, all slinky guitars, crispy percussion, textured keyboards and limber bass" (Pitchfork, 06/2012)
"My favourite Wake record for a variety of reasons, and most of those reasons are quite simply delicious songs. The opener O Pamela is a gorgeous hymn. Send Them Away is equally sublime, aching and reaching into the stratosphere" (Tangents, 02/2002)
"Driving compositions with bass-lines that form and direct the melodies. Behind a driving pop beat that teeter's on punk's edge, Caesar's vocals are deep and dark" (Other Music, 03/2002)
"O Pamela is a beautiful pop song that went completely unnoticed at the time. The naive melody and lyrics really got to me" (Nouvelle Vague, 2006)
"The album stands as a pillar of moody synth pop, still bearing passing resemblance to New Order while retaining the bounce of the Postcard label bands and the cavernous production of Closer-era Joy Division, covering it all in some of the heaviest synth wash this side of Klaus Schulze" (Dusted, 04/2012)