Little is known about Crawling Chaos, creators of provocative single Sex Machine released on Factory (Fac 17) in July 1980. According to the label's January newsletter, the band promised to "open up a new genre of heavy modern. Three short-haired awkward types from Tyneside who are a cross between Status Quo and Orchestral Manoeuvres."
Perhaps the most memorable Crawling Chaos review followed an appearance at the London showcase organised by Factory at the Moonlight Club in April 1980. Adam Sweeting wrote in NME: "They played so badly for so long that a phone call to McWhirter and his Book of Records would surely have been received favourably. Ineffectual doodlings on guitar and keyboards became ends in themselves. A guest singer stood at the microphone and coughed for several minutes. Nobody danced or even twitched a leg. The bloke at the mixing desk read the Evening Standard and someone next to me asked the time before falling asleep. Anyone who needs this garbage is probably already dead."
Originally released on Factory Benelux (FACBN 6) in 1982, debut album The Gas Chair still confounds three decades on. Both Factory releases are included on Boutique's remastered CD. Further tracks from the same sessions make up the second CD set on Boutique, Homunculous Equinox. Each reissue features original album artwork plus sleevenotes.
In addition to their Factory recordings, Crawling Chaos released later albums on their own Foetus Productions imprint:
C (1984)
Waqqaz (1985)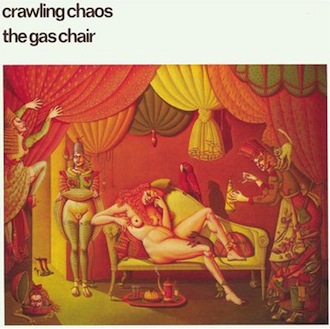 Reviews:
"Perhaps the ultimate in arty enigmas, in true Residents style they refued to reveal their identities... On The Gas Chair the Krautrock-styled material works well on Macabre Royale and Disierta Membra, both of which are touched by the hand of Can. On the other hand, Crawling Chaos could also turn their hand to weird, Nuggets-style garage pop, as both Creamo Coyl and Arabesque attest" (Whisperin' & Hollerin', 10/2003)
"Homunculous Equinox actually eclipses the parent album by showcasing hypnotic rhythms and eerily cinematic songs" (Q, 01/2004)
"The oddness truly is one without precedence, and terribly funny. Beyond the scope of time" (mundanesounds.com, 4/03)
"On HE the opening pair of tracks are both intriguing, dream-and-wonder filled soundscapes with a distinct (again) Krautrock influence" (Whisperin' & Hollerin', 01/2004)
"Not so much a new genre as pre-post modern. Where else can you hear 'folk' and 'prog' and 'punky synth pop' and 'industrial' and 'au naturel' acoustic chords all in one place? Serious as in: well-produced, well mixed, artisinal electro-acopustic sounds. And mocking: deliberately shit, off-the-cuff lyrics, and a kind of 'theatrical' singing at times (when you can hear it). Their love of sound as noise is heard large across all the tracks. The sui generis eclecticism of CC is daring weirdness, and they pull off whatever style it is they are mimicking" (Datacide, 04/2006)
"Decades later, Crawling Chaos have become something of an astonishing cipher. Sex Machine, their lone Factory single, is arguably the most un-sexy song ever committed to tape. It's a breathless bit of freak-wave, with roaring guitars, skittish synths and vocals so warped and warbling it sounds like someone's yanking the tape while it's running through the reels. The track's title may promise titillation, but the song delivers one grotesquerie after another: "I went to the doctor to get a smear/He told me I had gonorrhea." Even stranger is the searing three-minute guitar solo that swallows up the entire back half of the song. In the end, even Factory found the group too weird: after two years of hesitation, the group's full-length was finally issued through Factory's Benelux subsidiary, where it died a quiet, pustulant death" (eMusic, 09/2006)
"What I know I know to be true because they went to my school" (Avid Fan, 08/2003)