Eccentric yet visionary French composer Erik Satie was born at Honfleur, near Le Havre, on 17 May 1866. Despite being labelled the laziest student at the Paris Conservatoire in 1881, Satie was a gifted pianist, and by 1890 had been engaged as musical director at the bohemian Chat Noir cabaret in Montmartre. Already Satie had composed his three famous Gymnopédies, completed in the spring of 1888.
His friend and fellow composer Claude Debussy called Satie "the precursor" in recognition of his harmonic innovations, and would describe him elsewhere as "a gentle medieval musician lost in this century." In fact Satie anticipated many developments in 20th century music, from chromatism to serialism to minimalism, and made virtues of simplicity, economy and wit. These qualities, coupled with a shrewd awareness of developing trends in modern art, from Matisse to Man Ray, Picabia to Picasso, Cocteau to Brancusi, Dada to Surrealism, make Satie the personification of the espirit nouveau, and far more than the composer of popular classics such as Gymnopédies and Parade.
Satie's legacy is both profound and unique. The timeless, unresolved quality of much of his work became a key influence on later composers such as John Cage, while his concept of musique d'ameublement (furniture music) anticipated ambient and environmental 'muzak' by half a century. The simplicity of Vexations, in which three short lines of music are repeated 840 times, also provides minimalism with an important historical precedent.
LTM offers an extensive catalogue of carefully selected Satie recordings with explicit links to the unconventional, the mystic and the avant-garde. Across two separate CDs we also explore Satie's close association with Jean Cocteau and Les Six.
2389 Vexations
2406 Cubist Works 1913-24
2459 Socrate + Melodies
2469 Musique de la Rose + Croix / Pages Mystiques / Uspud
2474 Dada Works & Entr'actes
2501 Avant-Dernieres Pensées
2513 Festival Dada Paris 1920-23
2402 Cocteau, Satie & Les Six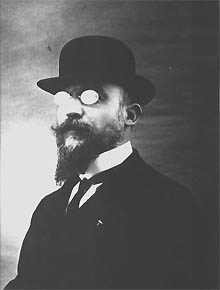 "Erik Satie was the only musician who had eyes." (Man Ray)
"The smallest work by Satie is small in the way a keyhole is small. Everything changes when you put your eye to it - or your ear." (Jean Cocteau)
"It's not a question of Satie's relevance. He's indispensable." (John Cage)