ltmcd2503.jpg
A remastered CD and download edition of this influential early album by acclaimed British composer Gavin Bryars.
Originally released in November 1981 on Les Disques du Crépuscule, Hommages was recorded in Leicester in February 1981 and produced by Wim Mertens. The album was conceived as a series of diverse homages to other composers, including Bill Evans (My First Homage), Ferruccio Busoni and Gustav Holst (The English Mail-Coach and The Vespertine Park) and Percy Grainger (Hi-Tremolo).
Featured musicians included Andrew Bilham, Ronald Reah, Andrew Renshaw, Nigel Shipway, Dave Smith, John White and Marie Wilson, as well as Bryars himself on piano and vibraphone. This the only album which documents the important period between Bryars' early experimental music and later works from Medea onwards, as well as his enthusiasm for small composer/performer ensembles.
This 63 minute digital remaster of Hommages includes two bonus tracks composed and recorded during the same period: Danse Dieppoise, and lengthy piano piece Out Of Zaleski's Gazebo. The booklet features extensive notes by Gavin Bryars on the origin and performance of all six pieces, and preserves the original album cover artwork by Marc Borgers.
Tracklist:
1. My First Homage
2. The English Mail-Coach
3. The Vespertine Park
4. Hi-Tremolo
5. Danse Dieppoise
6. Out Of Zaleski's Gazebo
Available on CD and digital download (MP3). To order please select correct shipping option and click on Add To Cart button below cover image, or else contact LTM by email for other payment options.
Reviews:
"Quietly restful mood music of appeal to those who harbour a secret liking for the more beautiful and touching corners of classical music" (NME, 1981)
"Quiet, intimate music" (Le Soir, 1981)
"Describing Bryars as the most notable post-experimental composer of his generation to admit jazz influences and techniques is a case of 'stating the bleeding obvious'. More interesting, perhaps, is the dichotomous and ambiguous dialogue into which this music enters with jazz forms, as heard in this engaging and eagerly anticipated reissue of the 1981 LP. Jazz elements scatter across the surface detail of the restrained but beautiful Mr First Hommage, and similar stepwise movements appear in Hi-Tremelo, albeit in slow motion, while the repeating chords and ringing percussive timbres of The Vespertine Park look forward to the dark yet delicate atmosphere of later works such as The North Shore and The South Downs. This is a must-buy for anyone interested in English experimental music" (The Gramophone, 08/2008)
"These six miniatures - scored for small, gently percussive chamber formations - date from a period when Bryars was intoxicated by the esoteric pianism of Erik Satie and the Oulipo literature of Raymond Roussel. For all the clever-clever codes, My First Homage, a tribute to the cool jazz piano of Bill Evans, and The Vespertine Park, a midnight stalk, are beautiful, delicately poised Satie-esque delights. Four stars" (Uncut, 06/2008)
"A reissue of the album originally released by Les Disques du Crepuscule in November 1981, Gavin Bryars' Hommages was produced by the celebrated Belgian composer Wim Mertens, The earliest of the pieces here (appropriately titled 'My First Homage') was penned in 1978 for a performance at The Kitchen in New York as a tribute to the work of jazz pianist Bill Evans, and features some beautiful harmonic exchanges across its captivating quarter-hour duration. Both 'The English Mail-Coach' and the quite stunningly beautiful piano and percussion of 'The Vespertine Park' were inspired by Ferruccio Busoni, and you can hear a certain neo-classical approach in these works, although they remain firmly rooted in the 20th century. Significantly, this remastered edition of the album includes two bonus recordings: 'Out Of Zalieski's Gazebo' and 'Danse Dieppoise', both compositions drawn from the same period of Bryars' work. Highly Recommended" (Boomkat, 04/2008)
"These pieces still evolve as much from oblique strategies – to borrow a phrase from Bryars' one-time collaborator, Brian Eno - as from specified music, and reap the benefits of Bryars' particular preferences in harmony, his interest in the re-creation of the works of others, and in improvisation. Hommages summarizes this period excellently well; it was originally released on the Disques du Crepuscule label in 1981, an album very difficult to locate outside of Belgium, though some in the know managed to obtain it. This is a highly valuable re-release for fans of Bryars. Bryars' fellow composers – Dave Smith, John White, perform on these recordings and Christopher Hobbs for example – perhaps as the performing community wasn't quite yet on the same page with Bryars and his style, which emphasizes intuition. A highpoint is "My First Homage" which evokes, and transforms, the idiom of Bill Evans circa 1961, much as Bryars' first collaborative excursion in the group Joseph Holbrooke did a little closer to that point in time. Its relaxed, exploratory ambience should appeal very strongly not only to fans of Evans but also of Brian Wilson; although implacably English, it's just as strongly evocative of California as it is London in 1981. Though written for percussion, The English Mail-Coach has a monolithic efficiency similar to the effect of the Misha Mengelberg pieces that Bryars' close friend Derek Bailey was so fond of playing like "Where Are the Police?" whereas The Vespertine Park is atmospheric and redolent of open field, like My First Homage as reconceived in the daytime. Written for a dance ensemble, of the pieces here, Hi-Tremolo is most easily reconciled to the minimalist idiom of the time. The bonus tracks, Out of Zaleski's Gazebo and Danse Dieppoise, were recorded earlier than the rest for a projected album that did not achieve release at the time, and as these tapes were never used they sound brighter and more immediate than the balance of Hommages. Out of Zaleski's Gazebo is an uncharacteristically loud and extroverted piece that "rocks" in a rhythmic sense; Danse Dieppoise has a wandering sense of intonation unique in Bryars' work, however in other ways it presages his mature style as it began to emerge definitively in the 1990s. It seems appropriate to say that without the piece of the puzzle that Hommages represents, one cannot get a grasp of Bryars' particular musical alchemy; therefore, it is essential. Although unavailable for a long, long time, there is no reason why devotees of Bryars would want to pass Hommages, and for them, its return to the catalogue really is something to write home to "Mom" about" (All Music Guide, 04/2008)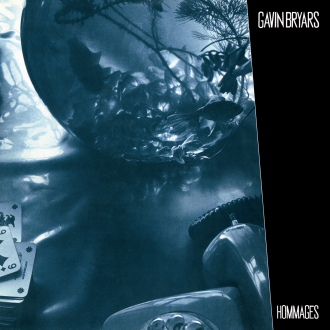 Hommages sleevenote by Gavin Bryars
Gavin Bryars is a leading modern British composer, whose key works include Jesus' Blood Never Failed Me Yet (1971), The Sinking of the Titanic (1975), Medea (1984), Three Viennese Dancers (1986), After The Requiem (1991), Farewell to Philosophy (1996), Cadman Requiem (1998) and 3 String Quartets (2002).
During the period when I wrote little or no music from 1972 to early 1975 I spent a great deal of time studying the work of Marcel Duchamp and of the network of writers and artists to whom his work relates. This gave me, as a by-product, a fund of technical and conceptual resources for composition, which proved to be a way out of this musical inactivity. One aspect of this lay in the use of found material, of the use of references to other composers' works, or to works by non-musicians. For example, the first successful piece after this period came from an observation of technical procedures in the music of Erik Satie's Rose + Croix period, as evidenced in his notebooks and in the pieces themselves, allied to the impression made on me by the imagery in Raymond Roussel's Impressions d'Afrique. Further to this, ideas of Oulipo ("Ouvroir de la Litteratureptentielle") showed me the possibility of writing an entirely synthetic piece of music, using almost entirely material from other sources, and this shows itself clearly in the realisation of the opera Irma for Obscure records in 1977. There had been, of course, pieces that fulfilled these requirements from earlier periods in my output, which indicate my receptivity to those influences when they appeared. The Ride Cymbal and the Band That Caused the Fire in the Sycamore Trees (1970) - as you see I had a fondness for very long titles, and this is by no means the longest - comprises entirely readymade jazz phrases. Jesus' Blood Never Failed Me Yet (1971) uses the found material of a pre-recorded voice, and an unrealised project involved making an orchestral piece entirely of chords of F Major in shifting voicings and orchestrations taken from the endings of a wide range of orchestral music.
Some of these pieces have been called 'minimal', but they represent a, perhaps, subversive aspect of the genre in that all these pieces have, to use terms from the visual arts, a figurative or at least a non-abstract image. Given that many of my pieces at that time took as their starting point the music of another composer - usually a composer from the past - I decided in 1978 to write a piece for a concert at The Kitchen in New York, called My First Homage, which is the first overt homage to a body of work that had exercised a fascination for me and to which I was indebted.
The following year I wrote another homage, following the death of my former music teacher Cyril Ramsey, called Ramsey's Lamp. All the pieces on this record are homages in this sense. The music was recorded by a group of people with whom I worked regularly - principally John White and Dave Smith, with the addition of others when the possibility of a larger ensemble presents itself. The recordings were made in the spring of 1981 at Scraptoft, where I taught. This is a rural part of Leicester Polytechnic's campus, and this partly accounts for the occasional presence of birdsong. I was particularly pleased that a Belgian company undertook this recording project. It was in Belgium, at the Palais des Beaux-Arts in Brussels in 1973 - and on many occasions since then - that Herve Thys put on the first substantial concert of my pieces outside England. Since then, in fact, I have given more concerts abroad than in England, and many of these in the 1970's and 80's were in Belgium.
Because of the greater length of CD compared with the original vinyl format, we are able to add further tracks. The two included here come from the same period and compositional ethos as those on the Hommages LP, although they were recorded two years earlier for my projected new label Mnemonic. This plan did not materialize and it was only in 2003 that I eventually started a record company, GB Records.
Notes on the pieces:
My First Homage (1978)
Dave Smith, piano; Gavin Bryars, piano; Andrew Bilham, vibraphone; Ronald Reah, vibraphone; Andrew Renshaw, sizzle cymbal; Andrew Wilson-Dickson, tuba.
In 1966 I gave up playing jazz after a long period during which this had been my principal musical activity, and developed an almost pathological hostility towards it. And so this piece represents both a homage to a certain music and, at the same time, serves to exorcise my repudiation of jazz. At the time (1978) I still disliked improvising but admired the work of many improvisers. Indeed, when devising the syllabus for a course in 20th century music history in the music department I had created at Leicester Polytechnic, I felt it essential that a certain element of jazz should be covered, and found myself lecturing on people like Lennie Tristano and Bill Evans. This first homage is, in fact, to Bill Evans and, more particularly, to the trio that he had from 1959-1961 - music that affected me deeply when I first began playing jazz seriously. I relished especially the harmonic approach and the rhythmic flexibility, both in Evan's own playing and in that of Scott LaFaro and Paul Motian. The title uses the same initials as those of a piece, My Foolish Heart, from the last performance recorded before LaFaro's death. (I always found it touching that the very last piece of all on this recording, LaFaro's Jade Visions, found the bassist losing a beat in his own piece.) In the original performance of My First Homage the piece was played on two pianos (Dave Smith and myself), lightly amplified to try to recapture the quality of the recorded sound of that performance. Since then there have been several modifications to the instrumentation, but this version, for two pianos, vibes, tuba and sizzle cymbal seems to me the most authentic.
The English Mail-Coach (1980)
Andrew Bilham and Dave Smith (vibraphone 1 and roto-toms). Gavin Bryars and Nigel Shipway (vibraphone 2 and roto-toms).
The Vespertine Park (1980)
Ronald Reah, piano; Gavin Bryars, piano; Andrew Bilham, vibraphone; Nigel Shipway, vibraphone; Dave Smith, marimba and orchestral bells; Marie Wilson, marimba; Andrew Renshaw, gongs, tam-tam, cymbal, finger-cymbals.
These two pieces were originally written for a concert of percussion music at the AIR Gallery, London, in April 1980. For a performance at the Paris Biennale in October that year, they were revised to form a continuous two-part piece (The Vespertine Park followed by The English Mail-Coach) with a substantial revision both of the instrumentation and of content from earlier versions of The Vespertine Park. Both pieces, and the revised 'double' piece, owe a debt to Busoni, as does the method of assembling a piece from elements in earlier works. A concert performance of Busoni's Doktor Faust at the Royal Festival Hall, London, had a particularly powerful effect on me, coming as it did a few days before the birth of my daughter, and taking place on the day that I came across a copy of a vocal score of the work among Lord Berners' papers. In the event I followed the performance with that score and spent some time afterwards listening to a recording of the work. The Vespertine Park originates in the "Duchess of Parma's Aria" from Doktor Faust, while The English Mail-Coach is a kind of paraphrase of the orchestral "CortËge".
In fact, several pieces that I wrote at this time were connected in a quite mechanical way. The last half of Danse Dieppoise (1978) becomes the opening section of The Cross-Channel Ferry (1979) preceded by a different 'motto'. The last chord of The Cross-Channel Ferry becomes the opening of The Vespertine Park, transposed upwards from A Major to B Major, before falling to B Flat when the introduction ends - an effective transposition of a semitone. An upward shift of a semitone is a feature of The English Mail-Coach which begins in B Flat, is transposed upwards a semitone in the central section, is repeated in its entirety in the new key (B), and ends with a semitone shift upwards to C Major on the final cadence. The semitone shifts in the centre of the piece are effected by having each roto-tom retuned upwards over a repeated bar from Gustav Holst's suite The planets. This is from the movement called Mars and is, hence, a 'Mars-Bar'. Once the retuning is successful, the quotation is completed for the remaining two bars and then another roto-tom is tuned.
This particularly crude pun comes from Dave Smith having told me about a dream he had had. On the way back from concerts in the Festival d'Automne, Paris in 1979 that had seen the premiere of The Cross-Channel Ferry, I had explained to Dave some of the considerable verbal punning involved in this piece. (Everything in the piece ends in "A": rhythms such as 'samba', 'rumba'; instruments such as viola, marimba, tuba; musical references to Palestrina and so on). the piece is a homage to Jean Ferry, one of the great writers on the work of the French author Raymond Roussel for whom puns are at the heart of his work (and in fact our conversation took place on a 'cross-channel ferry' from Calais to Dover). On Dave's return he had a dream in which he had come across a piece by me called The Mars-Bar, with the obvious pun involving a bar of chocolate. As a result, and to his horror (!), I resolved to realise this piece, but this is as far as the idea went - which is far enough...
A further literary device involves using the initials B and H. B (B Flat) and H (B natural) are the keys of each half of the piece, Busoni and Holst are the two musical sources, Breitkopf and Hartel publish Busoni, Boosey and Hawkes publish Holst. The final semitone shift to C Major follows the only quotation, though not exact, from Busoni's "CortËge", and emphasises the chromatic nature of the piece, and of the sequence of pieces involved in this chain of interconnection, which even goes on after the piece is finished into the following piece.
Hi Tremolo (1980)
Ronald Reah, piano; Gavin Bryars, piano; Marie Wilson, piano; Andrew Bilham, vibraphone; Dave Smith, marimba and tam-tam; Nigel Shipway, marimba.
As with the series of pieces mentioned above, Hi Tremolo begins a semitone above the ending of its predecessor - in C Sharp. The title is a pun on the Busoni collection of staccato studies Lo Staccato. The original idea for the piece came from the music written for a solo dance by Christine Juffs (of the dance group Dancework) called Sidescraper in which the movements are primarily sideward. Indeed, the early parts of that piece (originally for piano duet) are incorporated in a slightly revised form, into the opening section of this piece. The music consists entirely of rapidly repeated notes and tremolo chords. That is, by playing extremely fast the music remains in effect stationary. Much of the tremolo chord material comes from a study of this device, or rather effect, in Percy Grainger's music, though only on one occasion does it quote an actual Grainger tremolo (from the two piano version of his Lincolnshire Posy, from the movement called Rufford Park Poachers). The rest of the harmonic material, while reflecting aspects of Grainger's harmonic approach, is mostly non-sequential, except for short phrases of three or four chords at most. Unlike many other pieces that I wrote at the time, this piece does have occasional changes of dynamics, with a broad crescendo towards the end, though not at the end itself. the piece ends a semitone down from the beginning, implicitly reversing the momentum of the chromatic device, but in part reinforcing the generally downward movement of the harmonies. The unashamedly sentimental character of much of the music points to an aspect of Grainger that I admire, and reflects a similar sensibility within my own make-up.
Notes on the bonus tracks:
Danse Dieppoise (1978) (also called Danse à la Talouienne)
Dave Smith, baritone horn; John White, tuba; Gavin Bryars, piano; Christopher Hobbs, vibraphone Danse Dieppoise is one of a number of pieces from the 1970's that show my, at that time, almost obsessive use of material and conceptual ideas from the work of Raymond Roussel.
In François Caradec's biography of Roussel there is a page with two photographs of the writer taken in the Forêt d'Arques near Dieppe in 1904, apparently within a very short time of each other. The photographs show Roussel, his mother and a group of friends. The two are almost identical except that Roussel, on the far right in both, has moved from a fairly neutral pose in the upper picture to a flippant and jaunty one in the lower - playing a game with camera, making a little joke. Since the photographs were certainly taken within seconds of one another, I considered the pair as, if you like, the only example I have of Roussel moving - like two frames of an animation. Caradec's book also includes a pair of designs made by Roussel in 1932 for his funerary monument (he committed suicide in 1933). These have a similar interval between the two pictures that suggest an equivalent, albeit slower, animation.
The musical material comprises chiefly found material, slowed down considerably. The Bluebells of Scotland is used as the tune occurs as a musical quotation in Roussel's novel Locus Solus. Roussel's own surname is used in a Schumannesque cipher form and there is a reference to Debussy's La Mer, which was composed at Eastbourne (facing Dieppe across the English Channel). Rhythmically and metrically the music appears fairly straightforward. There are, though, some oddities, such as the single bar of 19/4 at the beginning and 19/32 before the second section. These time signatures are derived from the dates of the two pairs of photographs.
A second version of the piece, later in 1978, followed a request from music students at my old university Sheffield for a piece involving video, and attempted to make an actual animation of Roussel moving between one pose and the other: 'a kind of dance'. But this proved beyond the capabilities of Sheffield University's TV studio at the time (though it would be straightforward now) and the idea had to be rethought.
The first performance of the piece was with members of the Garden Furniture Music Ensemble (myself, John White, Dave Smith, Ben Mason) at the Stedelijk Museum Amsterdam, 15 April 1978. The Sheffield performance was June 1 1978 with a modified scoring: flute, clarinet, horn, trombone, and harpsichord. There was a striking private performance of the work in the exact location of the original photographs in the woods outside Dieppe in August 1988, performed by myself on a small portable Casio keyboard, with myself and Brigitta Cladders, members of the Académie de Muséologie vocatoire, holding cut out facemasks of Roussel and his mother.
Out of Zaleski's Gazebo (1977-8)
Dave Smith, Christopher Hobbs: Piano 1; Gavin Bryars, John White: Piano 2
Out of Zaleski's Gazebo, for 2 pianos, 6 or 8 hands, was written at the end of 1977 and is "out of" an earlier chamber piece called Poggioli in Zaleski's Gazebo which had been written for a concert at the AIR Gallery, London, organized by John White, in which all the works were to refer to elements of garden furniture (here, architecture). (It was from this concert that the Garden Furniture Music Ensemble subsequently emerged.) At this time I was reading extensively classic detective fiction from the late 19th and early 20th centuries, and in this piece the characteristics of two different fictional detectives from the period - Count Poggioli and Prince Zaleski - are contrasted. Poggioli solved cases in an entirely physical way by blundering from one solution to another until he simply happened on the correct one. Zaleski, on the other hand, was a model of pure ratiocination, never leaving his study to examine evidence, playing an air from Lakmé on the harmonium, fingering an Egyptian scarab, and smoking hashish. In the piece, the perfumed harmonies associated with him are subject to motoric and obsessive repetition, gradually descending in the first half of the piece, and rapidly ascending in the second half. Periodically short cadences from the music of Percy Grainger (involving no repetition) force a breath of fresh air into the music. the piece was written at a time when I was working in composer/performer ensembles with colleagues such as the performers on this recording. The first performance at the University of Louvain, Belgium in December 1977 was for 3 players rather than 4: Gavin Bryars, John White and Chris Hobbs.
This is perhaps the only piece of mine that is uniformly fast and loud!
Gavin Bryars