ltmcd499.jpg
The Durutti Column \ Live In Bruxelles 13.8.1981 [LTMCD 2499]
Live In Bruxelles 13.8.1981 comprises a complete live performance by Vini Reilly and drummer Bruce Mitchell at the Place de la Monnaie (Muntplein), together with a revealing after-show interview. The 10 song set contains Durutti favourites such as Conduct and Sketch For Summer, as well as several rarely heard numbers including Stains, Danny and Messidor.
The booklet for this digitally remastered CD includes a facsimilie of the original event programme, as well as background notes and archive images.
Tracklist:
1. Sketch for Dawn
2. Messidor
3. Jacqueline
4. Conduct
5. Sketch for Summer
6. Danny
7. Stains (Useless Body)
8. The Missing Boy
9. Self Portrait (Version)
10. For Belgian Friends
11. Vini Reilly interview
Please note that the LTM edition of this CD is now deleted - Live in Bruxelles is now available as a bonus disc with the Factory Benelux edition of Short Stories for Pauline (FBN 36 CD).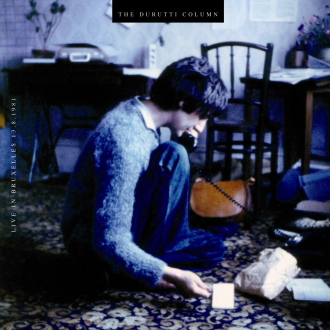 Reviews:
"The mix often foregrounds Bruce Mitchell's drums, and gives the disc part of its impact. Having just recently begun to work with Vini Reilly, you get a sense that he's still testing out the feeling of the partnership to the full, and moments like the breakdown toward the end of Sketch for Dawn and the various mini-solos throughout Jacqueline show both what a remarkable drummer he is and how well he slotted in with Reilly's own muse. Reilly himself shines as expected; while his singing is much more direct and sharp, as can especially be heard on a stellar take on The Missing Boy, as ever it's still a voice notable more for absence rather than presence, translating most of his feelings into his trademark fluid guitar runs and deceptively calm melodies. There's one notable exception to this via some crazy soloing on Self Portrait, which almost comes out of nowhere. An enjoyable bonus appears at the end with the inclusion of an interview done just after the performance, where Reilly thoughtfully answers various questions about his work, including some thoughts on the balance between experimentalism and accessibility he found himself aiming for (which in many ways remains true through the present day)" (All Music Guide, 02/2008)
"Fragile and painfully honest, but Live in Bruxelles shows off Durutti Column as chief beneficiaries of such exotic Benelux exchange visits in less well-travelled times" (Plan B, 03/2008)
"A fascinating document of the original line-up playing tracks from their first two albums to a very appreciative crowd. The ten-song performance has an interesting interview with Reilly as a bonus track, during which he talks at length about his music" (Exclaim!, 09/2008)
"A precious slice of history" (SubCulture, 03/2008)