ltmcd2518.jpg
The Durutti Column \ Treatise On the Steppenwolf (OST) [LTMCD 2518]
The very first soundtrack album by Vini Reilly. Treatise on the Steppenwolf is the music score to a performance piece by experimental theatre group 12 Stars, written and directed by Gerard McInulty (of fellow Factory band The Wake), and first staged in Glasgow in May 2003.
The 60 minute album combines the studio versions of the 12 pieces performed during the Glasgow run, as well as two bonus live tracks recorded at the event, one featuring spoken-word narrative by cast member Carolyn Allen. Booklet includes images from the live performance and artist quotes.
Tracklist:
1. A Beautiful Thought (Pt 1)
2. Stupid Steppenwolf (Pt 1)
3. Stupid Steppenwolf (Pt 2)
4. The Mothers & the Fathers
5. A Wolf Of the Steppes
6. Interlude
7. The Title On the Cover
8. Divided
9. Magic Theatre
10. Soul Track
11. Harry Dreams the Dream
12. A Beautiful Thought (Pt 2)
13. Lullaby (live)
14. Mello (live)
Please note that LTMCD 2518 is deleted and now available as FBN 63 CD.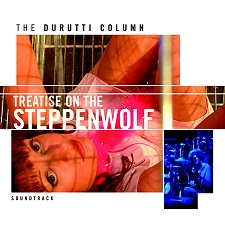 Reviews:
"At the centre of it all, bathed in a glow that's both beatific and rock n' roll, Reilly plucks delicately away… There's something haunting about Carolyn Allen and Kenny McGlashan's casual, almost throwaway lack of contrivance, as, egged on by the music's heartbreaking beauty, their rituals work their way towards some kind of higher ground" (Glasgow Herald, 05/2003)
"Reilly's thin, heavily chorused guitar jangle is present and correct as always, but there's also a very electronic feel to certain cuts which take beat loops and vocal snippets as their basis. It's an instantly identifiable linguistic code, teetering on motion blur ambiance" (Boomkat, 08/2008)