ltmcd2466.jpg
Aberdeen \ What Do I Wish For Now? (Singles + Extras 1994-2004) [LTMCD 2466]
Singles compilation by cult Californian indiepop combo Aberdeen, the Sarah Records group featuring Beth Arzy (also of Trembling Blue Stars) and John Girgus (of Languis).
This 69 minute, 18 track collection features all tracks from their five singles on Sarah Records and Tremelo Arm Users Club issued between 1994 and 2004, as well as three extra songs from hard-to-find compilation albums.
The CD booklet features a detailed band history and a wealth of images. Stand-out tracks include Super Sunny Summer, Sink Or Float and The Boy Has Gone Away. Also includes covers of songs by The Field Mice and Biff Bang Pow.
CD tracklist:
1. Byron
2. Toy Tambourine
3. Fran
4. Fireworks
5. When It Doesn't Matter
6. Super Sunny Summer
7. Snapdragon
8. I Think I'm Falling
9. Marine Parade
10. She Never Understood
11. Sink Or Float
12. Drive
13. The Boy Has Gone Away
14. Miss You Now You're Gone
15. Emma's House
16. Florida
17. Late Bloomer
18. Kyoto Death Song
Available on digital download. Please note that CD is now SOLD OUT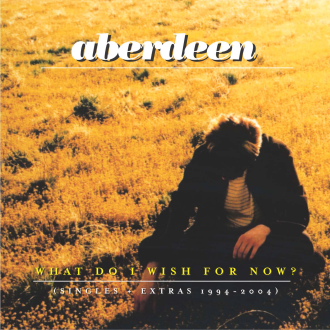 Reviews:
"The singles compilation their catalog has always demanded. Out of their internal tensions, Aberdeen craft tender, intimate indie pop. Aberdeen's work divides neatly into pre and post break-up, but lilting melodies and dreamy, percolating guitars remain constant. So too does a Richard Linklaterian sense of realities just barely out of reach" (Pitchfork, 10/2006)
"I suspect these Californians would have sooner been born English, or maybe even Scottish, but this is melancholic and very pleasant ligne claire pop music" (PopNews, 02/2007)
"A more satisfying listen than their 'real' album. At their peak, they sounded like a mix of Galaxie 500 and Trembling Blue Stars, with shimmering, jangly guitars and female vocals. A nice reminder of what they left behind" (Exclaim!, 03/2007)