ltmcd2346.jpg
Miaow \ When It All Comes Down [LTMCD 2346]
Formed in 1984 by Cath Carroll with drummer Chris Fenner and bassist Steve Macguire, London indiepop band Miaow released debut single Belle Vue before contributing Sport Most Royal to the NME's celebrated C86 compilation.
Alerted to their talents, Tony Wilson brought the group to Factory Records, resulting in a brace of unabashed pop singles in 1987: When It All Comes Down, and Break the Code. This comprehensive anthology rounds up all their studio recordings along with their two John Peel radio sessions, and two demos for an aborted Factory album.
Tracklist:
1. Belle Vue
2. Fate
3. Grocer's Devil Daughter
4. Sport Most Royal
5. Did She? (Peel 6/86)
6. Following Through (Peel 6/86)
7. Three Quarters of the Way to Paradise (Peel 6/86)
8. Cookery Casualty (Peel 6/86)
9. When It All Comes Down
10. Did She?
11. Just Keep Walking (Peel 2/87)
12. Thames at High Water (Peel 2/87)
13. The Dreamer's Death (Peel 2/87)
14. Fate (Peel 2/87)
15. Break The Code
16. Stolen Ears
17. When It All Comes Down (Catechism)
18. Carnal Drag (demo)
19. Fear of the Sun (demo)
20. King Creole
Available on digital download (MP3). CD is currently out of stock.
Reviews:
"The title track is jangle-tastic, with its blissful Tyrolean yodel and glam hand claps" (Uncut, 04/2003)
"Sounds so impossibly fresh, it's difficult to believe they aren't 21st century recordings from Slumber Party or Belle and Sebastian. Four stars" (All Music Guide, 07/2003)
"The two John Peel Sessions brought out the best in Miaow and the eight Maida Vale recorded songs are sublime. This CD acts as both a testament to a fine band, and an important signpost on the road to Cath Carroll's solo career" (Whisperin' & Hollerin', 02/2003)
"Between 1985 and 1987 they shimmered and shivered, brittle and muted funk guitars invade your head" (Tangents, 01/2003);
"The second Peel session is fantastic... Miaow never once sounded like they weren't having fun. One neat compact collection" (mundanesounds.com, 02/2003)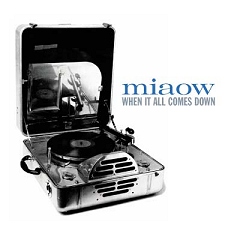 Although Cath Carroll's band Miaow enjoyed a high profile in their lifetime, their musical legacy amounts to three singles recorded between 1985 and 1987, two radio sessions for John Peel, and rumours of an unreleased album for Factory Records. The band traveled a long way in two short years - from Manchester to London, from C86-era guitar jangle to sophisticated electronic pop - and their rambling (but never shambling) route can be traced on this more or less chronological CD.
Cath combined Miaow with day jobs at Blast First and as an NME scribe, and her cult status was assured after US band Unrest released the skewed tribute song Cath Carroll on their 4AD album Perfect Teeth. Eventually Mioaw imploded in 1988 and Cath went on to cut an album solo for Factory, the excellent England Made Me, released in 1990. Meanwhile, here Cath dishes the real dirt herself...
Baby Butch
Miaow arrived in London on January 2, 1984 as the Gay Animals; Liz Naylor, Chris Fenner Jon Fell and myself, plus Stanley the cat, all bound for a newly-claimed squat. Our destination was on Rotherhithe Street, in an unwelcoming area of the Docklands. We had managed to inspire both vexation and indifference in the audiences of Manchester so it was time to seek fresh ears. Although she would leave within 48 hours of arriving in London, La Naylor certainly left her imprint on the soon-to-be Miaow. We first met through a newspaper ad in 1979 when she was 16 and I was 18 and arranged to meet outside Debenhams, Stockport, one Sunday afternoon. I waited in the doorway for over half an hour. The only other person in sight that day was a ten year old delinquent of indeterminate gender who stood about two feet away from me in the same doorway. How odd that we should both be waiting for someone at the very same time in this godforsaken spot on this unforgiving March day!
Luckily we figured it out before the pubs closed and thus began a fine tradition of hiding Liz from the barman and getting chased out of the Ladies toilets (and sometimes the pub itself). We spent the next four years in a strange parallel universe, cloistered in our council flat, up to our elbows in Tippex and Copydex as we foisted out somewhat 19th Century worldview on the local arts scene via the fanzine we had monopolized, City Fun. Gay Animals began life as Glass Animals with bass player Cilla and drummer Pip Nicholls (the Distractions' bass player), and rehearsed determinedly. We were very kindly indulged by Kay Carroll and Mark Smith of the Fall, and appeared with the band in several support slots across the north of England. Anxious to improve our stage presence, we used to perform behind a white sheet, I think Liz and I intended to eventually show ourselves when we felt we had sufficiently incubated our mystique. However, the affectation was short-lived as gig-goers found that they could just lift the sheet and look underneath. In 1982, encouraged by New Hormones maestro Richard Boon, we began to manage Manchester-based messy art/messy jazz act, Ludus. It was most unconventional but utterly enchanting few months. We exacted our toll from Linder and Ian by opening for them on a variety of nationwide dates.
Gay Animals were variously augmented by Lynn Howe (bass), Adam Lesser (drums) and Kingsley (bass) and were equally influenced by the Fall and Vesta Tilley. Failing to hold on to a rhythm section, we bought a £20.00 rhythm unit, featuring six presets (five bossa novas and a march) and continued with the preset Latin thing until we met Chris and Jon. Fate is the only GA's song to survive here, and although the bossa box was long gone by the time we recorded this version, on a clear night you can still hear the ghostly yet relentless meter of preset 5: March.
Carry On Up the Walworth Road
We were welcomed by Johnny, our new neighbour and seasoned squatter, a local in his early 40s who had become marginalised for reasons beyond our ken. "It's fackin' Aladdin's Cave" he choked as we opened the truck and ninety lamps and potted plants fell out. Nonetheless, he fulfilled his promise to help us unload and move in. We bequeathed the trusty crowbar to the next band of hopefuls looking for somewhere to settle in Londinium.
Liz immediately left, seeking broader artistic vistas and more lesbians. Jon Fell soon went too, to Microdisney, and Steve Maguire and Jonathan Bedford came down from Manchester to take their place in the flat and to serve time in the band. Soon after, we heard a public service announcement on a local radio station offering cheap rehearsal space at the Elephant & Castle. We didn't realise the radio show and the rehearsal invitation were intended for the benefit of physically challenged artists, so we called up and booked ourselves in. When the Gay Animals showed up, they were given a circumspect reception and realised now might be a good time for a name change.
Nightmare Organ
Gay Animals inherited the old Vox organ belonging to Manchester favourites and sometime flatmates The Distractions who, in turn, claim to have been given the instrument by Manfred Mann in 1657. By the time Miaow got hold of it, it had a nasty plastic belt nailed to it, so as to better lug it around across the shoulder, lots of missing keys, and a randomly pitched clarion call that tormented many a soundperson. It survived several journeys unsheathed in the luggage hold of the National coach route between Manchester (Chorlton Street) and London (Victoria) and horrified bus conductors with its bulk. Apologies to all people who suffered by coming into contact with it, esp Jonty Bedford.
Cummins and Gowings
Chris, Steve and Jonathan came variously from the Floating Adults of Manchester and the performing Ferrets (of Maidstone, Kent). They, with bandmates Nigel Chatfield and Cathy Brooks, held a weekly club upstairs at the Thompsons Arms in Manchester and in early 1983 were one of the few venues bold enough to book the G.A.s. Once in London, we would hang around the Malt and Hops at Kings Cross with the Naylor Sisters, Brian O'Neill and Richard Boon, skimming favours off the patient staff at Rough Trade. Here, Venus Records was born, and, like a male drone bee, it enjoyed but one release before laying down its earthly burden, this one the Belle Vue EP, featuring Budgie Woman cover art by Pat Naylor.
When Steve left we were soon fortunate enough to find bass player and guitarist Ron Caine. We kept bumping into each other at the vending machine at the rehearsal rooms, he would stop by from his other band's rehearsal to see Chris and me as we toyed disconsolately with our (new) drum machine. Ron's boundless sense of adventure caused him to say yes to our pleas to join us and there was great rejoicing up and down the Walworth Road. In 1986 guitarist Andy Winters was introduced to us by Brian, and around about this time we recorded Sport Most Royal.
So Much to Answer For
A few months down the road, a colleague played a tape of When It All Comes Down to Tony Wilson of Factory Records, and we went on to receive the benefit of two Factory releases, the second being Break The Code. Miaow/Gay Animals had been known to Tony for some years, in much the same way that a noxious fly trapped in a car is known to the driver. Tony was always gallant. By now, Andy had left to focus on his burgeoning theatre career and we were joined by Joe Korner.
Between 1984 and 1987, thanks to the lobbying of Brian O'Neill and Paul Smith, we attached ourselves to some improbable concert line-ups: Sonic Youth, Nick Cave, and most memorably, the Butthole Surfer's UK debut at the Ambulance Station on the Old Kent Road. These audiences were quite gracious considering Miaow's grind-free set lists. Although we didn't know it at the time, our last gig was to be on October 3, 1987 at the Clarendon's Klub Foot in Hammersmith, London.
Joe Korner's living room was the venue for a series of demos recorded in September 1987 intended to be an album, Priceless Innuendo, a phrase gleefully shrieked by the glorious Charles Hawtrey in a Carry On... film whose title I forget. The album was never recorded. Chris, Ron, Joe and myself, we were several bands all happening at once. I'd heard solo work from the other three and liked it more, and besides how could we have every truly embodied the tawdry glamour hinted at in Mr Hawtrey's utterance?
Some Songs from Manchester
Belle Vue (1960s, same as the 1860s/Gorton), Fate (1860s, same as the 1960s/Gorton), Did She (dominant partner/Hulme) Following Through (cross-dressing/Harpurhey)
Some Songs from London
Thames at High Water (angst/Surrey Docks), Three Quarters of the Way to Paradise (obsession/Upper St), The Dreamer's Death (obsession/Highbury), Just Keep Walking (codependency/deepest Peckham), Cookery Casualty (petty self/Rotherhithe), Sport Most Royal (posh dykes/Hampstead Women's Pond), Grocer's Devil Daughter (some have more bootstrap than others/Grantham), Stolen Ears (High Art/Westbourne Park), When It All Comes Down (obsession/Highbury and Islington), Break The Code (obsession/WC1), Carnal Drag (same angst/Kings Cross), Fear of the Sun (surprise! obsession/N1)
Lilac Whine
Ahh. Wobbling with amps up the stairs of Routemaster buses, Thursday nights at The Bell, the weekly communal flat shopping trip for budget cheese, idyllic sojourns in Kent, freezing mornings in the wrecked bathroom at Lavender House, yet always, the never-ending wonder of living in London. Although the shadow of Thatcher stretched grim and horizonless beyond us, our somewhat dodgy existence was blessed by the kindness and goodwill of others.
Thanks to Brian O'Neill for his unconditional cheer leading and help and to... Age of Chance, Steve Albini, Martin Aston, Nigel Bagley, the staff of Blackwing Studios, Richard Boon, Gill Bradley, Cathy Brooks, Jane Burridge, Roy Carr, Kay Carroll and the Fall, Fred Dellar, Juliet De Valero Wills, the staff of Factory Records, Nigel and Audrey Fenner, Finitribe, Tony Friel, Julie Gask, Dave Harper, Julian Henry, Lynn Howe, Johnny, Phil Jones, Paul Kendall, Kerry Kelekovich, Kingsley, Ann Lehman, Adam Lesser, Linder and Ian, Rob Lloyd, Andy MacDonald, Rory Manchee, Alan McGhee, Bruce Mitchell, Liz, Olga and Pat Naylor, OZ PA, Stephen Parker, David Quantick, Vini Reilly, Ro and Mandy, the staff of Rough Trade, Anne, Fred, David and Peter Ryecroft, Scotland, Paul Smith, Tatt, Tony Wilson, Alan Wise, the Woodentops and the bus drivers and long distance lorry drivers of London, Manchester and all points in between. A very special thank you to James Nice for making this compilation happen.
Cath Carroll
Chicago, November 2002.