ltmcd2527.jpg
Auteur Labels \ Object Music [LTMCD 2527]
Active between 1978 and 1981, pioneering experimental label Object Music followed a more oblique path than fellow Manchester independents New Hormones, Rabid and Factory, and was unusual in preferring albums over singles.
Founded by Steve Solamar as an outlet for his group Spherical Objects, the label quickly expanded to release landmark records by The Passage, Steve Miro and Grow Up, as well as a host of less well known artists, many of them members of the Manchester Musicians' Collective. The label ceased operations in 1981 when Solamar disappeared, leaving behind a legacy of unorthodox yet strangely timeless music.
CD booklet contains liner notes and archive Object images.
Tracklist:
1. SPHERICAL OBJECTS The Kill
2. SPHERICAL OBJECTS The Knot
3. STEVE MIRO & THE EYES Dreams of Desire
4. STEVE MIRO & THE EYES Queen of the Sea
5. GROW UP River
6. GROW UP Stay Awake
7. GROW UP 10 Minutes
8. ALTERNOMEN UNLIMITED Facade
9. WARRIORS Martial Time/Martial Law
10. STEVE MIRO Up and About
11. STEVE MIRO Smiling in Reverse
12. SPHERICAL OBJECTS Seventies Romance
13. SPHERICAL OBJECTS Sweet Tooth
14. CONTACT Fascinated by Time?
15. CONTACT Nite Time
16. THE PASSAGE Troops Out
17. THE PASSAGE My One Request
18. MANCHESTER MEKON The Cake Shop Device
19. IQ ZERO Insects
20. GROW UP Joanne
21. GROW UP Affirmation of Existence/Swept Away
22. GROW UP GGGDADGADADAD
23. STEVE SOLAMAR Forewarned
24. THE NOYES BROTHERS The Mutant
25. THE NOYES BROTHERS Decision Time
26. ALTERNOMEN UNLIMITED Connections
DELETED
Reviews:
"Another great lost Manchester independent, and a fine anthology" (The Wire, 01/2009)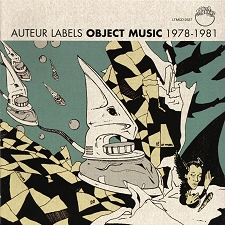 Auteur Label Object Music liner note by James Nice
Active between 1978 and 1981, pioneering experimental label Object Music followed a more oblique path than fellow Manchester independents New Hormones, Rabid and Factory, and was unusual in preferring albums over singles. Founded by Steve Solamar as an outlet for his group Spherical Objects, the label quickly expanded to release landmark records by The Passage, Steve Miro and Grow Up, as well as a host of less well known artists, many of them members of the Manchester Musicians' Collective. The label ceased operations in 1981 in unusual circumstances and Solamar disappeared, leaving behind a legacy of unorthodox yet oddly timeless music.
Three decades later, few of the myths and legends around Solamar and his label bear close scrutiny. Indeed the Object auteur was not even a native Mancunian. 'I was born in Gosport, Hampshire, in 1950,' Solamar confirms today. 'When I was about eleven I started to be drawn to music. Initially to Wagner and Grieg, but in 1963 I fell under the spell of the Beatles, followed by R&B with Manfred Mann, the Rolling Stones and Downliners Sect. Then my mind was blown by this chap I saw on Ready Steady Go!, John Lee Hooker, and I moved deeper and deeper into the blues. Also, in early 1965, I started to try to play the harmonica, but I had no teacher. In 1964/65 I sang in the Band of Three. I had been writing poetry, and I started to play guitar and write songs. I also loved - well, revered - John Coltrane's Meditations, which none of my friends liked, but which I still love. I also liked Bob Dylan's Bringing It All Back Home, Jimi Hendrix (Electric Ladyland), Leon Thomas with Pharoah Sanders (Karma and Jewels of Thought), Alice Coltrane (especially Journey in Satchidananda) and Tim Buckley on Starsailor.'
At the end of 1972 Solamar relocated to Manchester, then Maidstone, and then back to Manchester, moving into the infamously grim William Kent Crescent flats in Hulme. 'Some friends had moved to Knutsford, near Manchester. I worked in computers, bought albums, and strummed a guitar.' In 1975 he formed the band Joe Panic with Steve Escott (aka Miro), a native of Fareham and a friend since 1966. Other members included Chris Gribble (guitar), Alan Robinson (drums) and bassist Martin Claydon (aka Fruhstuck). Between 1975 and 1976 the group played around pubs and clubs, with Solamar on vocals and Miro on guitar. 'The basic structure was to commence with two verses of a song,' says Solamar. 'Then we would improvise with vocals, guitar and keyboard - often unrelated to the songs - before returning to the closing verse. We also played spontaneous 'instant' compositions, initiated by any band member.These experiments shaped and moulded my vocal technique.'
Joe Panic split in late 1976, and Alan Robinson became the manager of the newly opened Electric Circus. At first a heavy metal venue, on 9 December 1976 the Circus hosted one of the few dates on the Sex Pistols' ill-fated Anarchy tour not cancelled by nervous local authorities, and hosted a return visit ten days later. Because Solamar owned a number of punk and reggae 45s, as well as the Stooges and the Nuggets compilation, he was invited as DJ on both nights. When subsequently the Circus organized a weekly Sunday punk night at the end of April 1977, he became the resident DJ until the venue closed in October, an event preserved on the Short Circuit compilation released by Virgin. The credits, incidentally, thank 'Steve for the sounds'.
A far more important Manchester punk record had already appeared in late January 1977, when Buzzcocks released the seminal Spiral Scratch EP on their own label, New Hormones. Solamar played it each week at the Circus, and also DJ-ed at several Buzzcocks gigs, including Rafters and the Mayflower. Inspired by this DIY aesthetic, early in 1978 he decided to try to form a new band of his own. The chosen name was Spherical Objects: 'Life was filled with contradictions for me. I chose the name because of the contradictory interpretations that could be drawn from it. While it could be crude, we all live on a spherical object, Planet Earth, and there are many other spherical objects in the universe.'
As many as 20 musicians were auditioned before Solamar settled on Roger Hilton (drums), John Bisset-Smith (guitar), Fred Burrows (bass) and Duncan Prestbury (keyboards). A relative veteran at 28, Solamar explained to the NME: 'I've been in bands long enough to know now what I want, and I've got reasonably strong ideas on how I want to present it. I found that musicians of my own age were very cliché-ridden, so I looked for younger musicians where the chances of them being less spoilt were greater. Everyone in the band has freshness, they're all 20 or under, and they play effectively without in any way being virtuosos.'
Spherical Objects made their live debut on 28 May 1978 at the Band on the Wall on Swan Street, a gig staged by the Manchester Musicians' Collective. After just three gigs, the band then recorded their debut single and album. Past & Parcel was taped at Indigo/Arrow Studio, off Deansgate, where Buzzcocks had cut Spiral Scratch. Twelve tracks were recorded in a single seven hour session on 10 July 1978, as-live and in single takes, at a cost of £800. This achievement might seem remarkable today, but BBC radio sessions such as John Peel were recorded in identical circumstances, and although sold as an album, Past & Parcel ran for just 27 minutes. It was released in August on Solamar's own Object Music label (OBJ 001), with a low recommended retail price of £2.50. Reviews praised the mix of new wave drive and slower, more considered tracks, drawing comparisons ranging from Love, Tim Buckley, Lou Reed and the Doors to the more modern sounds of Talking Heads and Pere Ubu. But many listeners also found Solamar's abrasive, twisted vocal style an acquired taste. The two tracks not included on the album - The Kill and The Knot were released as a 7" (OM 01) in September.
Solamar was unhappy with the mastering quality of the first pressing of Past & Parcel, and once all 1,000 had sold out the album was remastered and re-cut. Suitably stickered, the new pressing appeared in April 1979, now priced at £3.75. For Solamar, the objective for Object was artistic control, as he later explained to the NME: 'There's two sides to signing a deal. The main problem is finance. I don't see any reason why, if we had a deal retaining artistic control, we couldn't put out music exactly as we want, advertising it how we want. Buzzcocks are a shining example. There's no chance of us going professional if we ignore the major labels and stick with Object. If we had control there would be no problem. I fully realise that if a company signed us they would attempt to push us in certain directions but I think the sound that we make is commercial as it is without us having to compromise in any way... But if we don't get a contract this year we will still release an album on Object in the autumn. We will carry on regardless.'
The success of Past & Parcel allowed Solamar to expand the Object roster beyond his own band. On 4 November 1978 no less than three singles were recorded in another busy ten hour session at Arrow. As well as cutting a second Spherical Objects single, coupling Seventies Romance and Sweet Tooth (OM 04), Burrows, Hilton and Prestbury also backed a now-solo Steve Miro on Up & About (OM 03). After Joe Panic, Miro and other ex-members had formed an opportunist punk band, The Slugs, who played at the Electric Circus and elsewhere. A solid songwriter, singer and lyricist in the style of Stiff Records, Miro's crisp a-side was backed with Smiling In Reverse. Critics offered lavish praise, citing Dylan and the Byrds, the NME judging his single 'a sheer delight. Up & About finds our hero employing a deal of sardonic self-deflation as he learns to cope with being jilted. I predict this boy is going to be huge, etc.' In fact Up & About described being ill as a child.
The third single recorded at Arrow in November was an EP by The Passage, New Love Songs (OM 02). The Passage were formed in March 1978 by Richard 'Dick' Witts together with Tony Friel and Lorraine Hilton. For Witts and Friel the band was extra-curricular, with Friel still playing bass in The Fall, and Witts juggling a post as music and dance officer for Merseyside Arts Association with a stint co-presenting What's On for Granada TV. Prior to this, Witts had trained as a classical percussionist and briefly played with the prestigious Hallé Orchestra; he was also a founder member of the Manchester Musicians' Collective, of which more below.
In 1978 a trio of standing drums (Witts), bass (Friel) and keyboards (Hilton) was considered highly unusual. 'The same line-up as ELP,' Witts joked in the NME. 'It's extraordinary the number of people who come up to us and say that we really need a guitar. who can't adjust to our sound. There are possibilities in rock that haven't been tapped, avenues that I'd wanted to explore. There's a lot of change in a Passage set. There's a lot of different things happening - music that goes from one extreme to another. My songs are experimentally based, and Tony's are rock based, but there's still a fluidity. What we've got to find is something that exists as a critique of existing society. Music is one way of doing that. Music is about time and energy. That's why I became interested in rock. Like The Fall were doing some really interesting things.'
Early Passage dates included a show at Eric's Club in Liverpool with Joy Division as support. New Love Songs was released on 7" in December and featured two tracks apiece by Friel and Witts, with Love Song in particular raising eyebrows by virtue of an uncompromising lyric ('I love you/cos I need a cunt/I love you/to use you back and front') misconstrued by some as misogyny. Redolent of The Fall spiked with rudimentary electronica, the EP made strong independent waves, selling 3,000 copies. Indeed from the outset, The Passage looked like being Object's band most likely to succeed.
On 16 December 1978 Spherical Objects were booked to support Magazine at the legendary Factory (aka Russell Club) in Hulme. Despite superficial similarities between the two quintets - cerebral frontmen, foreground keyboards - Spherical Objects were not well received by sections of the audience, as guitarist John Bisset-Smith recalls. 'A steady stream of spit bathed me throughout our set. Steve turned on the audience. I can't remember what he said, but he had a slightly headmasterish quality which amused me with its incongruity even in the middle of my dejection and revulsion.' Around the same time a Spherical Objects live cassette was made available in a limited edition of 100 copies.
In January 1979 Solamar compiled the second album release on Object, Indiscrete Music/Dubious Collaborations (OBJ 002), released in a limited edition of 500 copies. 'It was a compilation of home improvisations recorded with future Joe Panic members between 1971 and 1975. The tapes were rescued and salvaged at Graveyard, which became one of my studios of choice. I played harmonica on some tracks, and others featured Steve Escott and Chris Gribble, the guitarists in Joe Panic.' Billed as 'a collage of improvisations in full frequency claustrophobic sound', it was also the first of several Object releases to establish a tradition of misspelt titles, the sleeve advertising 'Indiscreet Music/Dubious Collaberations'. 'Not a deliberate thing,' admits Solamar today, 'just a fault on the part of this Auteur.'
That same month saw Object, New Hormones and Rabid/Absurd joined by a fourth Manchester independent label, when Factory Records released A Factory Sample, the iconic double 7" package featuring music from Joy Division, Cabaret Voltaire, The Durutti Column and John Dowie. This ongoing post-punk fertility saw the NME run a long and significant article by Paul Morley, in which he championed three new Manchester groups: Spherical Objects, Joy Division and The Passage. This trio, Morley predicted, would have the same impact in 1979 that Magazine, Buzzcocks and The Fall had made the previous year.
'I guess I was right about one in three,' Morley reflected in 2008, writing in his book Joy Division: Piece By Piece. 'Although at the time, if I'd gone on the quality of the conversation, and based future success on how the musicians articulated their views and presented their mission, I would have suggested that Joy Division would not break through. They seemed a bit baffled by their status and trajectory. On the other hand, Steve Solamar of the gracious, almost gothic Spherical Objects, and Dick Witts of the desolate, lacerating Passage, talked with considerable fluency about their plans, with expertise that wasn't just musical and artistic but also financial. [Both] talked with penetrating persuasiveness and an intellectual rigour that seemed positively Eno-esque.'
In their NME interview, printed in January 1979, Solamar and various other Spherical Objects emphasized the importance of retaining artistic control, while at the same time revealing that a sympathetic deal with a large label was the preferred way forward. As regards Object, Solamar confirmed: 'What I plan is for there to be quite a lot of releases on Object this year. We're planning releases by three Manchester bands, who'll get fifty per cent of profits after costs have been deducted. What will probably happen is that after a lot of activity on Object this year it will either be wound down to a large degree next year, or we'll stop production to concentrate on wherever Spherical Objects have reached at that time. It may be possibly kept over to release things I find interesting.'
Indeed Object was becoming a busy label. 'Projects were chosen and recorded,' recalls Solamar, 'and sleeves designed and printed. I took the tapes to London to be mastered. When the records had been pressed, I would hire a van to drive to London to pick them up, then take them round to Rough Trade, Virgin, HMV and a number of smaller shops. That's why several releases were often grouped together. The central shop I dealt with from the outset was Rough Trade, and Geoff Travis was extremely helpful. Singles tended to sell between 1,000 and 2,000 copies, although New Love Songs by The Passage sold a staggering 3,000. The albums sold 2,000 to 3,000 copies. Artists received 50% of profits, and retained all rights to their music.'
The next round of Object singles were somewhat incestuous. In February the two Steves, Solamar and Miro, recorded a Solamar song under the name Alternomen Unlimited. Released on 7" in April (OM 06), the lengthy, disjointed FaÁade combined anguished vocals with dub-like bass and clipped, nagging guitar, continued on the dub flipside as Connections, or perhaps Forever & Ever, since label and sleeve were in disagreement. Both tracks feature an oboe-like shawm, renamed the 'cacaphone' by Solamar, since ir produced a 'wonderful' cacophony. The flipside also contained an unlisted 'joke' track by Solamar, The Russell Club, an ironic homage to the celebrated venue in Hulme which also hosted the Factory. A subsequent Object single was no less incestuous, being a one-off reggae single credited to Warriors (OM 07), recorded on 22 April 1979. A melodica-led instrumental in the style of Augustus Pablo, Martial Time continued as Martial Law on the flipside, with the two sides later joined together for the Objectivity compilation. The musicians included Solamar (on harmonica), Prestbury, Hilton and Tony McDermott, an Object associate who designed covers for reggae label Greensleeves. While the track is pleasant enough, however, it might have benefited from a Dennis Bovell mix, and in any event specialist reggae shops declined to stock a humble 7".
Far more intriguing were Grow Up, formed around Spherical Objects guitarist John Bisset-Smith. 'When I started writing my own songs Steve Solamar didn't want to incorporate them into the Objects' set,' he recalls, 'so I got together with saxophonist Richard Westwood. We performed as a duo for a while, with Richard playing toy accordion and bits of percussion besides the sax. Soon Richard's younger brother Steven joined in on trombone, and then drummer Billy MacDonald. After a bad experience with a bass player who famously strolled into a gig during the closing song of a set, I took to bass and Roger Blackburn came in as guitarist.' Debut EP Stay Awake (OM 05) was recorded at Revolution on 17 February 1979, and released in April. The eclectic 7" EP featured six short tracks, four of which - River, Stay Awake, Photo and So Long lasted barely a minute.
Grow Up also featured on the next Object album project, also released in April and drawn from the talent pool of the Manchester Musicians' Collective. The MMC had formed in April 1977 as a self-help group, inspired in part by Dick Witts' earlier involvement in the London Musicians' Collective, and by composer Trevor Wishart's involvement with the scene in York. A registered charity, meetings were held in the basement of North West Arts on King Street. 'What was interesting for me,' recalls Wishart, 'is that the previous collectives had always been an attraction largely for the free improvisation scene, whereas the establishment of the Manchester collective coincided with the newly emerging band scene in Manchester.'
The MMC's musical direction changed forever with the arrival of groups, and it soon became apparent that another venue was needed. Enter the Band on the Wall on Swan Street, from November onwards a regular Collective venue, with gigs organised according to a rota. A short list of better known MMC bands appearing there includes Warsaw/Joy Division, Fast Cars, Frantic Elevators, Spherical Objects, The Not Sensibles, Slight Seconds, The Passage, A Certain Ratio, Grow Up, Crispy Ambulance, Manchester Mekon and Dislocation Dance. Later still MMC gigs relocated to the Cyprus Tavern.
The idea of an MMC compilation album seems to have been discussed relatively late in the day. Solamar: 'I suggested the idea of A Manchester Collection, and I had the privilege of selecting the bands and tracks. I attended many Collective gigs at the time, and some of the groups who were not selected did grumble a bit. Fast Cars had already recorded their two tracks, but the rest of the album was recorded at Revolution and Graveyard. It was an interesting scene. Manchester Mekon were almost jazz rock, and I wish Object had recorded an album with them. Some of the teenage groups were just sub-punk.'
A Manchester Collection (OBJ 003) was released in April 1979, and featured 17 tracks by 11 artists, most of whom were included in the achingly humdrum cover photo taken outside the Band on the Wall. The contributors included Grow Up, IQ Zero and Manchester Mekon, as well as Fast Cars, Mediaters, Fireplace, F.T. Index, Slight Seconds, Vibrant Thigh, Property Of. and Picture Chords. Musically and historically, the track by Manchester Mekon is perhaps the most interesting contribution. Guitarist Frank Ewart and bassist Louise Alderman were founder MMC members, and with Chris Griffin on flute recorded The Cake Shop Device, a musicianly piece written by Ewart in 1977. Joy Division liked one of the component melodies so much that they asked Ewart for permission to adapt it. Ewart agreed, and Love Will Tear Us Apart has now become a modern standard.
Cath Carroll, later of City Fun fanzine and a Factory solo artist, and in 1979 a member of punkettes Property Of., recalls of Ewart and Manchester Mekon: 'They may not have recorded a full-length album for Object, but Manchester Mekon's Frank Ewart was a key facilitator for many of the Object Bands and members of the Collective. The attic of the Mekon flat in Burton Road, Withington, hosted scores of rehearsals and recordings, a lurid array of bands and visitors. Intent, omnipresent and instantly spottable in a punk rock crowd, Ewart was the slightly shuffling hippy peering out from a drapery of long brown hair, clad in a much-worn pair of old man's slacks. Always willing to lend gear, fiddle with the PA and fix leads, Ewart made a lot of things happen. His neighbours may not have felt so fondly. While the very musical 'Mekon were held in great affection by musicians and Collective audiences alike, their gently proggy jazz never received the tribute it deserved at the time. The flat at Burton Road was downstream of slightly posher Didsbury, where Factory was still based, on Palatine Road. That Ewart should be the unsung contributor to Factory's signature song is very fitting.'
On 1 September 1979 the NME published a lengthy feature on Britain's leading independent labels, in which Adrian Thrills and Paul Morley explored 'the wonderful and often whacky world of living room recordings, piggy bank budgets, Dadaist design and unlimited ideals.' The nine 'major minors' spotlighted were Rough Trade, 2 Tone, Step Forward, Factory, Fast, Small Wonder, Good Vibrations, Zoo - and Object Music. Morley described Object as 'non-conformist' and 'unfashionable' but praised Solamar as 'enterprising' and aspiring to 'a standard of quality [which] has always been as high as possible within limited facilities and funds, his intentions shakily benevolent.' As if to emphasize the lack of marketing hype, Object (along with Rough Trade) was the only label discussed that offered no logo or artist photo.
While the Morley/Thrills piece confirmed that Object lacked a certain flair, it revealed Solamar's ambition of releasing seven albums within the next year, revealing a significant change in Object strategy since the lengthy NME article at the beginning of the year. 'I feel the groups on Object are more suited to LP format, and there is much more that you can do with LPs. You can take bigger risks, and in the end you're more likely to break even and this can help improve quality. With the singles market currently being flooded it is much more difficult to get attention - it's a shame people are not prepared to look, but stay faithful to the major labels - and John Peel continues to be the only airplay. It's depressing in a way.'
In describing Object as 'unfashionable', Morley hinted at a problem which would become more acute as time went on, and as more competitor labels appeared. Very much a musician, running a label for musicians, Solamar failed (or refused) to recognise the increased importance of marketing, and eye-catching graphic design. While few labels could afford to match Factory's elevated standard of presentation, Object releases tended to be dressed by well-meaning amateurs - passable policy for singles perhaps, but certainly flawed so far as albums were concerned. The result was an increasing number of Object reviews in which terms such as innovative and pioneering were replaced with 'faceless', 'rather too short on charisma' and 'atrociously packaged'. Unfortunately this served to obscure the high quality of the music inside, and Solamar's commitment to high production values in the studio. Save for The Passage, moreover, none of the bands played live outside the North-West. Writing in Sounds the following year, Dave McCullough threatened to visit Manchester and 'give the people of that city's Object Music a firm kick up the pants. They need it. Ultimately it's so irritating! These people don't really expect success or attention, so for them time passes slowly and contentedly as they keep blowing bubbles. That's a pity; I'm certain a tightening of intent would provide them with the biggest surprise of their lives.'
All of which was most unfortunate, since in July 1979 the label recorded a pair of excellent, ambitious albums in Elliptical Optimism by Spherical Objects, and The Best Thing by Grow Up. Both sets were recorded in tandem over five days at Pluto Studio, and produced by the bands along with Phil Ault. By turns elegant, slapstick, humorous and cutting, and boasting accomplished brass arrangements, The Best Thing (OBJ 005) was years ahead of its time, and attracted excellent reviews on release in October. Writing in the NME, Paul Morley opined: 'Grow Up's LP The Best Thing is not only extremely commercial, it's a record of mellow, sublime magic that extends the terse sound of the EP to a brilliant, luxurious level. Their sound is a sort of ingenious, sax-propelled chamber pop, of the Ayers/XTC English eccentric line, but it also holds the melancholy depth and sauce of Brechtian cabaret, the twists of Beefheart, the ambiguous tension of Lou Reed. Grow Up have invented a whole new delirious pop world. They fracture tradition, push out and bend into spaces but keep it light, snappy and appealing. The Best Thing is not only Object's greatest release, but a record that is up there with the obvious Mancunian biggies.'
Elliptical Optimism (OBJ 004) retained Solamar's unique emotional undertow and mix of old and new wave styles, yet showed substantial progression from Past & Parcel, the album featured horns and organ/piano on several tracks. Standout tracks include the title track, Walk Away and Metropolis, but after the album appeared in October 1979 the band parted company. Both Roger Hilton and John Bisset-Smith moved to London to study, the latter also wishing to concentrate his musical energies on Grow Up. Fred Burrows and Duncan Prestbury also departed, Prestbury having already formed the duo Contact with Tony Friel, formerly of The Fall and then still one-third of The Passage. However Solamar seems not have been upset, and indeed inherited Grow Up guitarist Roger Blackburn for subsequent albums by Spherical Objects.
'Steve Solamar's attitude to Grow Up was amazingly benevolent,' recalls John Bisset-Smith. 'He basically put us in swanky 24 track studios for an EP, two albums and a single without any conditions other than time. There was no question of the group contributing to the cost of anything - several members were still at school and certainly none had a job. He would sit in the control room, gently overseeing things, making comments to the sound engineer such as, "if John's rustling his lyric sheets you can be sure it's part of the performance", or patiently reminding me of the passage of time as I struggled to record vocals whilst leaning into a grand piano with Richard holding down the loud pedal.'
With Spherical Objects in temporary limbo, Solamar began recording with Steve Miro as The Noyes Brothers. Meanwhile Miro had recruited a backing band of his own, The Eyes, comprising Jimmy Carter (bass), Brian Martin (drums) and Delroy Smith (sax). His second solo single coupled Dreams of Desire and Queen of the Sea (OM 10), and was recorded at Revolution on 4 July 1979. Released in August, it offered two slices of new wave pop, and again revealed Miro as a capable vocalist with wit to spare. The NME praised 'more superb Manchester swing - dainty, discreet and distinctive light rock that appears to be distantly related to the protesting whimsy of Giles, Giles and Fripp, even the enigmatic elegance of Kevin Ayers.'
Object's singles blitz in September 1979 also included 7"s by The Passage, Contact and IQ Zero. Having made their debut on A Manchester Collection, Blackburn quartet IQ Zero returned with Insects (OM 09). Their frantic sound was compared to early XTC, and although some found the music too quirky and clever, NME found praise for 'an erratic dart of buffoonery' with 'promising sparkle'. Flipside track Quirky Pop Music summed the band up perfectly. OM 011 was a four track EP by Contact, a duo comprising former Spherical Object Duncan Prestbury and Tony Friel, previously with The Fall and The Passage. Karl Burns also contributed drums. The standout track was Fascinated By Time, a Friel composition prefaced by 'computer blips running haywire and rhythmic space clash echo', while Prestbury's Nite Time today sounds like a song from spoof children's science show Look Around You.
Still a part-time group, the second Passage EP About Time (OM 08) was produced by David Cunningham of Flying Lizards, and again featured two songs each by Tony Friel and Dick Witts. Recorded over two days, the standout track was an early version of 16 Hours, an intense meditation by Witts and Friel on infatuation. Indeed the EP was almost a concept record, with 16 Hours, Taking My Time, Clock Paradox and Time Delay all dealing with various aspects of the passage of time - a fixation repeated on the Contact EP involving Friel. However, About Time sold fewer copies than the first Passage EP, and following a London date with Cabaret Voltaire early in 1980 Friel left. For a brief period Lorraine Hilton's sister Martine joined on bass, although after Witts was injured in a car crash band activity was put on hold.
By the end of 1979, however, Object had all-but abandoned singles, a decision reflected in the release of Objectivity: The Object Singles Album (OBJ 006) in February 1980. This collection simply gathered together early singles by Spherical Objects, Steve Miro, Grow Up, Warriors and Alternomen Unlimited, and meant that Object did not have to keep a number of older 7" records in print. Dick Witts declined the allow The Passage to appear, and so most of the tracks feature members of Spherical Objects in various guises, a fact reflected in the album title. Released simultaneously, fifty minute compilation The Waiting Room (OBJ 007) featured just three bands, all of which had appeared on A Manchester Collection a year earlier. From Stockport, Slight Seconds delivered angsty, Wire-ish new wave. Manchester quintet Mediaters offered angular, Beefheart-ian rock, while Picture Chords closed with a single 13 minute track, A Cause Des Voisins. All contributions were recorded at Cargo in November 1979, the only session that Object recorded at John Brierley's busy Rochdale studio. Despite the album's somewhat clumsy format, reviews were generally favourable, with Paul Morley praising a trio of serious, sometimes gloomy young bands that 'keep it simple and sparse, but try for deeper textures, odder structures, different rhythms, reason and targets. The music is grammar school articulate, late-teen post-punk. More about predicament, nightmare, acne, existentialism, effete martyrdom and bedroom experimentation; less about dole, environment and street violence.' Twelve months later, Object would release yet another compilation album, Do The Maru (OBJ 014), featuring one track each by Steve Solamar, Roger Blackburn, The Noyes Brothers and 41 Degrees, the latter featuring Kevin Eden of Slight Seconds.
The debut album by Steve Miro, Rude Intrusions, (OBJ 008), was recorded at Revolution Studio in the spring of 1980 and produced by Andy Macpherson. By now The Eyes comprised Jimmy Carter, Brian Martin and former Spherical Objects/Contact member Duncan Prestbury on keyboards. Steve Solamar also contributed harmonica. The material was chiefly drawn from Miro's established live set, with tracks such as Hammer & Tongs and Good Looking Girl displaying characteristic droll lyrics and musical panache. 'My chief ambition is to become better able to translate feelings and experiences into sound,' explained Miro. 'For me, the operative factor in playing and writing is fulfilment and enjoyment. Whilst nobody is making a fat fortune on Object Music, it is giving a real chance to those who stick with it, and it does not in any way sit on the personal freedom of its artists. So in many ways it stands for and perpetuates the values that so many big companies let slip.' The cover featured a striking, Dali-esque painting by Manchester artist Terry Crossley, and provided a rare example of a well-dressed Object record.
The last single released on Object came courtesy of Grow Up. Recorded at Revolution on 10 April 1980, and released in June as OM 12, lead track Joanne was described by the band as a 'quality pop song', while the flip featured a quartet of typically brief musical skits: Affirmation of Existence, Reaffirmation of Existence, Swept Away and GGGDADGADADAD. This attempt to enter the Guinness Book of Records passed unnoticed, and soon afterwards the original line-up went their separate ways.
July 1980 also saw the release of Sheep From Goats, an eclectic double album (OBJ 009/010) promising '100 minutes of Solamar/Miro' and credited to The Noyes Brothers. Recorded at Graveyard between October 1979 and May 1980, Sheep From Goats consisted of solo compositions by Solamar and Miro as well as co-written and co-improvised material, including the epic, side-long It Seemed Like A Good Idea At The Time. Several of the photos on the cover show Solamar and Miro outside the Object HQ at William Kent Crescent. Miro described the project thus: 'It reflects an interesting, long-standing relationship with Steve Solamar. For some years Steve and myself had kept up a musical correspondence with cassette tapes, some of which surfaced on the Dubious Collaborations album. It seemed a logical extension to continue this work in the studio, so the Noyes Brothers were born to continue this learning process in a more sophisticated area. It also serves as an outlet for the exploration of texture in music, the feel of sound itself, rather than continue the emphasis on melody which characterises the work of Spherical Objects and The Eyes.'
By the time The Passage recorded their debut album Pindrop in July 1980, the group consisted of Dick Witts alone. Self-produced on eight-track equipment at Graveyard in just 70 tense hours, OBJ 011 made up in bile and bite what it lacked in production gloss. Standout tracks included a powerful version of 16 Hours, the brooding Watching You Dance and the memorable Troops Out, which despite an overt political agenda hinted that Witts was quite capable of writing a bona fide pop hit. Elsewhere, A Certain Way to Go offered a dig at press darlings A Certain Ratio. Despite technical shortcomings, and a budget overrun, the album was widely acclaimed on release in September, and went on to sell 3,000 copies.
Writing in NME, Paul Morley lavished praise on the album: 'With the disquieting Pindrop, the Passage can be accepted as major even by the cowardly, cautious and cynical: it's a work of disciplined intellectual aggression, frantic emotions and powerfully idiomatic musicality. Pindrop is densely shaded, erratically mixed (which often works in its favour), rough edged, heavy in an unloveable sense of the word... It's as shocking a beautiful nightmare, as stormy and aware a debut LP as Unknown Pleasures. Where you gasp a lot. Comparisons will harm. Their sound is their own. It's the shock of the new - new shades, textures, noises, pulses, atmospheres, energies, the opening up of new realms of feeling.' Terry Senai was no less effusive in Sounds: 'This is an astounding first LP by a band about whom I know nothing. Comparisons are futile and confusing, but the most appropriate parallels at the moment are early Joy Division and late Wire. No, there's no plagiarism. Pindrop is as innovative and individual as 154 or Unknown Pleasures were.'
In due course The Passage expanded to become a trio, and recorded three further albums (For All & None, Degenerates and Enflame) as well as singles such as Taboos, XOYO and Wave. Today Witts is an academic, having published a history of the Arts Council in 1998, and lectures on modern music in London and Edinburgh.
Spherical Objects returned in September 1980 with an ambitious third album, Further Ellipses (OBJ 012). For this project, the Objects consisted of Solamar with guitarist Roger Blackburn and several other musicians, and saw the organ largely replaced by synths. However, the sessions at Revolution in July proved problematic. 'The new band rehearsed the material for several weeks,' recalls Solamar, 'but after the basic tracks were recorded, Andy Macpherson, the producer and engineer, asked me to stay behind after the band left, and showed me how the bass and organ parts weren't really working. These parts were then re-recorded by two guys associated with Sad Café, and I had to make a quick call to the printers to remove the band line-up from the sleeve. I felt a total fool for not having spotted the problem earlier, as even though they had failed on some basics, in other ways they were interesting musicians.' This version of Spherical Objects performed just one gig, in Manchester, supported by Solamar and Miro's only performance as The Noyes Brothers.
Given Solamar's penchant for releasing records by members of his own magic circle, the decision to release Etudes by Tirez Tirez in August 1980 seems unusual. A modern New York trio lead by composer Mikel Rouse, Tirez Tirez were a more rock-orientated than his other ensemble, Broken Consort, and often compared to Talking Heads. Recorded in New York in April, manager presented Object with finished masters and artwork. OBJ 013 received good reviews, sold 2,000 copies, and the following year the album was reissued by Aura in the States. Rouse recorded a second album as Tirez Tirez for Les Disques du Crépuscule in 1983, Story of the Year, followed by Jade Tiger as Broken Consort, and remains a prolific recording artist. 'Object Music was a wonderful homegrown label,' he recalls. 'They released Etudes and for that I will always be grateful.'
The second album by Steve Miro, appropriately titled Second Sentence (OBJ 015), arrived in April 1981. 'Second Sentence was made at Revolution, and was largely the brainchild of the producer, Andy Macpherson, although the writing and vocals were all mine. I was backed by session musicians who were all under contract to other labels, and couldn't be named on the sleeve. So they became The Eyes. Fred Burrows also played organ.' By 1981, however, Miro's brand of traditional, writerly adult pop was out of fashion, and unlikely to sell in significant copies on an independent label.
The fourth and final Spherical Objects album, No Man's Land, appeared in July 1981 as OBJ 016. Recorded at Revolution with Andy Macpherson again co-producing, it also featured more session players. With no band as such behind Solamar, it was less dramatic than before, based around simple drums, bass and guitar, although tracks such as Resting Place, No Man's Land and the bluesy Cruellest Twist hold up well. Solamar recalls: 'No Man's Land involved Roger Blackburn on guitar and Roger Hilton on drums, who came up from London to rehearse and record. Even though I'd written enough songs for a double album, I decided only to record a single. But it was an eventful time, about which my memory is incomplete, and anyway I'd already come to a profound realisation.'
No Man's Land proved to be the last record by Spherical Objects, and the last release on Object Music. In February 1981, Steve Solamar realised that he had to abandon his past life and identity and become a woman. 'Before my fourth birthday I realised that I was actually female. This caused me to have a breakdown, but when I was seven I knew I should have been in the girls' part of the school instead of with the boys. I became an anachronism to myself. I saw a photograph of a transsexual when I was 14, but their over made-up face, long blonde hair and bikini with big boobs revolted me, as they seemed to be imitating rather than being a woman and playing games. This did not appear to be a solution to my woes. Finally in February 1981 I had a full realisation that I was female. My choice was either to commit suicide or correct my body and lifestyle, as I could not continue living a lie. I sought immediate help, changed roles in 1982, had surgery in 1983. Having corrected myself I then moved to London to resume a career as a computer analyst/programmer.'
Arguably the clues were in place from the outset, since the first track on Past & Parcel included the line 'Sometimes I think I should have been a woman', while the cover art featured a pair of male and female dolls with their hands nailed together. As part of this process of transformation Solamar even discarded his own master tapes. Having failed to find a successor to take on Object as a going concern, the label closed down, although Solamar did arrange for Steve Miro to record a third album, Trilemna, for the Glass label, and also financed the recording of a second Grow Up album, Without Wings. 41 Degrees also self-released their album Open Heart in 1982. However, Solamar's radical decision meant that Object Music was largely lost to history, and over the next 25 years just one Spherical Objects track would be reissued, when Sweet Tooth appeared on the Paul Morley-curated compilation North By North-West in 2006. Morley generously included the entirety of his long NME interview with Solamar and Witts in Joy Division: Piece By Piece, while noting that Spherical Objects had dropped off the cultural map by the end of 1979. Indeed neither band nor label even gained entries in the Virgin Encyclopedia of Indie and New Wave, a grave yet forgivable omission.
Today, the former Steve Solamar lives a quiet spiritual and musical life, writing extensively, and recalls her past post-punk adventures in Manchester with detached affection. 'I'm amazed at how good a lot of it still sounds,' she admits, 'as I've not heard any of this music for nearly thirty years. Maybe I abandoned a musical paradise, but I had to take the path I then took. However music is still absolutely central to my life, and I hope people enjoy listening to these recordings.'
James Nice
August 2008