Born in Bristol, Cath Carroll was raised in Swansea and Ipswich before finally settling in her family hometown of Manchester. In 1979 she joined forces with Mancunian native Liz Naylor to form the band Glass Animals, as well as co-editing vitriolic fanzine City Fun. Although the city boasted an embarrassment of musical riches - Joy Division, New Order, Factory, Magazine, Buzzcocks - City Fun's sharp scribes were loathe to admit this. Only The Fall, The Smiths and Ludus seem ever to have been singled out for praise. In 1980 Glass Animals changed their name to Gay Animals, and - having worn out their welcome in the north of England - moved to London in 1984.
They immediately broke up.
Carroll subsequently embarked on a dual career, writing for New Musical Express (as Myrna Minkoff) and fronting indiepop band Miaow. Belle View, their debut single, appeared on their own Venus label in 1985, and in early 1987 a cassette of planned follow-up When It All Comes Down brought them to the attention of Tony Wilson at Factory. Despite City Fun having regularly traduced the iconic Manchester label, Factory issued When It All Comes Down as a single and went on to release a second, Break the Code. During this period the band were also rewarded with two Peel sessions and appearances on several notable compilations, including C86. Cath also recorded with The Hit Parade for releases in England and Japan.
Sadly Miaow were destined not to complete a planned Factory album, Priceless Innuendo, and after several line-up changes finally dissolved in 1988. Cath began work on a solo album for Factory, England Made Me, in June 1988, and over the next year various sessions were recorded in Sheffield, Sao Paolo, London and Chicago. The title, incidently, was inspired by the Graham Greene novel about middle-class life during the drab 1930s, and the songs largely co-written with Sim Lister. Towards the end of the extended recording schedule Cath travelled to Chicago to record with Steve Albini, whom she'd met while working for Big Black's British label, Blast First. Together they contributed a version of King Creole to NME compilation The Last Temptation of Elvis. Albini and fellow ex-Big Black member, Santiago Durango, also contributed to the song Train You're On, featured on England Made Me.
In late 1989 Cath relocated to Chicago, after which England Made Me was finally released by Factory in June 1991. The moody grooves and sinister bossa nova drew critical acclaim, and proved particularly effective on dance cuts such as Send Me Over, Subtitled and lead single Moves Like You. After the collapse of Factory in November 1992 the relative expense of the project (including photo sessions with Robert Mapplethorpe) was cited as a factor in the label's demise, but in truth the album's generous budget was only one of a series of fiscal indiscretions by the troubled company.
Cath's status as an indie poster girl was confirmed by DC band Unrest, who included quirky tribute Cath Carroll on their 1993 4AD album Perfect Teeth. Mainman Mark Robinson's appreciation also resulted in two Cath Carroll singles on his Teenbeat label, My Cold Heart and Bad Star, as well as her second solo album, True Crime Motel, issued in 1995. Cath also began recording with Kerry Kelekovich, a Chicago-based musician and engineer whom she married in 1996. True Crime Motel marked a return to guitars, and the album was a critical success, with the word noir frequently deployed to describing the shadowy lyrical undertow and understated vocal delivery. However, personnel changes and family health problems meant that touring to promote the set was problematic, so Cath and Kerry concentrated on recording a new album instead.
This became the eponymous set Cath Carroll, released in 2000. This was the pair's first true collaboration, with both contributing equally to the writing, and Kerry handling most of the playing. The album appeared on their own Lilypad label (via Chicago-based Heart & Soul), and was described by one reviewer as a blend of Astrud Gilberto and Roxy Music, and by another as a 'shadowy corner of the adult pop universe'.
In 2002 Cath and Kerry finished work on a fourth album, The Gondoliers of Ghost Lake. Written and produced in Chicago, standout tracks included The Divine Miss A (Morrissey meets the Kinks in tribute to transgendered Mancunian), Free (post 60s mystical rock), Man Goes Down the Highway (rarified folk-dub, on the same continuum as Luscious Jackson and Pulsillama) and the infectious Mystified (romping dance pop with a latin underpin). LTM also reissued England Made Me on CD, along with a comprehensive Miaow retrospective When It All Comes Down.
In tandem with her musical career, Cath continues to write. Her teenage memoir Les Gray's Erection chronicles the horrors of solitary fandom during the teenybop 1970s, and appeared in the anthology Girls, Girls, Girls. In 2000 her critical discography of Tom Waits was published in the UK. She also contributes reviews to a number of magazines.
Official Cath Carroll website www.cathcarroll.com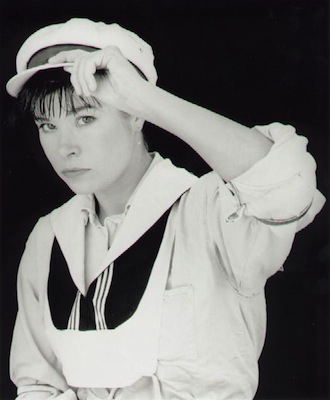 Discography:
Miaow
Belle Vue 12" (Venus 1T, 1995)
When It All Comes Down 7" and 12" (Factory Fac 179, 1986)
Break the Code 7" (Factory Fac 189, 1987)
Sport Most Royal (on C86 compilation, NME, 1986)
1st Peel session (June 1986)
2nd Peel session (February 1987)
When It All Comes Down (LTM compilation, LTMCD 2346, 2002)
Cath Carroll
King Creole (on Last Temptation of Elvis compilation, NME, 1990)
Beast 12"/CDS (Factory Fac 255, 1990)
England Made Me LP/CD (Factory Fact 210, 1990)
Moves Like You 7"/12"/CDS (Factory Fac 307, 1991)
My Cold Heart 7" (Teenbeat TB137, 1994)
Bad Star 7" (Teenbeat TB157, 1995)
True Crime Motel LP/CD (Teenbeat/Matador TB167, 1995)
Cath Carroll (Lilypad/Heart & Soul HS77751-2, 2000)
No Easy Way Down (on Forever Dusty compilation, R&D, 2000)
Free EP CD (Lilypad LRC-V1115T621, 2001)
England Made Me CD (LTMCD 2348, 2002)
The Gondoliers of Ghost Lake (LTMCD 2350, 2002)