ltmcd2443.jpg
A Certain Ratio \ Live In Groningen (Holland) 26.10.1980 [LTMCD 2443]
Archive in-concert CD by post-punk funk outfit A Certain Ratio, recorded on tour in the Netherlands on 26 October 1980.
The full show (from the Vera club in Groningen) features the original quintet of Donald Johnson, Jeremy Kerr, Martin Moscrop, Simon Topping and Peter Terrell. Recorded after the band spent six weeks in New York gigging and recording their debut album To Each, the set is unusual in that the band choose to concentrate on album tracks rather than singles. Stand-out tracks include And Then Again, My Spirit and the extended percussion excursion Winter Hill.
Remastered from a mixdesk tape, the CD includes two rare bonus tracks for collectors, both also recorded live in 1980. And Then Again is taken from the b-side of the 7" single Shack Up (released by Factory Benelux in August 1980) and Felch, recorded in Hurrah in New York in September 1980 and included on the Crépuscule cassette compilation From Brussels With Love. The CD includes detailed sleevenotes by Larry Cassidy of Section 25, partners on the 1980 European tour, and artwork based on the Benoît Hennebert design for Shack Up.
CD tracklist:
1. Felch
2. Oceans
3. And Then Again
4. Loss
5. Forced Laugh
6. My Spirit
7. Winter Hill
8. And Then Again (live 4/1980)
9. Felch (live NYC 9/1980)
Please note CD is SOLD OUT.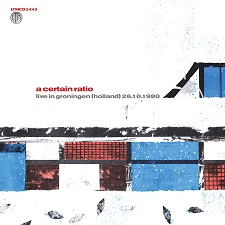 Reviews:
"Clearly ACR were cooking onstage. Live, most of these songs from To Each take on an extra dimension, and are performed with tautness and verve by a band keen to push into fresh sonic territories. It's somehow hot and cool all at once, and, amazingly, the 12 minute percussion workout that is Winter Hill here sets up an ultra-hypnotic drone that is difficult to shake once it's tugged you in (Whisperin' & Hollerin', 07/2005)
"This CD reminds me of just how fucking wonderful ACR were" (Tony Wilson, 01/2006)