ltmcd2531.jpg
Mind Made Up is a 2009 album by iconic postpunk outfit A Certain Ratio, their 15th long player since debuting on Factory Records in 1979.
Produced by the band in Manchester between 2006 and 2009, it marked a return to hard-edged funky form. "The songs are timeless and true to ACR's roots," says drummer Donald Johnson. "The emphasis was placed on keeping it simple in the studio. Trickery was kept to a minimum and we never took more than three takes on any track."
"Most songs we jammed in a rehearsal one week and recorded the next," adds guitarist Martin Moscrop.
"We didn't rehearse them too much so that they were rough round the edges. And the lyrics are some of the best Jez has ever produced. You'll also hear old ACR influences throughout the album. Teri was actually the first song ACR ever wrote, but it has never been recorded or released until now."
For Mind Made Up the band line-up comprised Jeremy Kerr (vocals, bass), Denise Johnson (vocals), Martin Moscrop (guitar), Donald Johnson (drums), Tony Quigley (keys, sax) and Liam Mullen (keys).
CD tracklist:
1. I Feel Light
2. Down, Down Down
3. Everything Is Good
4. Way to Escape
5. Rialto 6
6. Mind Made Up
7. Teri
8. Bird to the Ground
9. Starlight
10. Which Is Reality?
11. Skunk
12. Very Busy Man
13. I Feel Light (Dub)
DELETED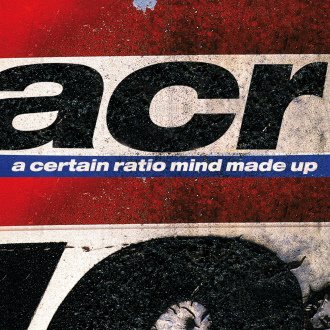 Reviews:
"Certainly Ratio are happy to hark back to their late 70s peak. Johnson and Kerr recycle classic ACR rhythm riffs, while the predominant funky beats and spooky atmospherics blend nicely with the art-pop of Teri and Bird to the Ground. The results sound surprisingly tough, vital and contemporary" (Uncut, 07/2010)
"The formula remains true, and there's still a vital disco energy in the gritty guitar and rubber-band bass. Faithful fans might find their passion rekindled" (The Wire, 06/2010)
"As fresh and vital as any of their worshippers' output. Theirs is a lean funk, spiked with Wire-y guitars and not afraid of industrial clanks, dry Mancunian wit or anything else that comes to hand. It is also properly funky. Mind Made Up is a record to get or risk losing your edge. A triumph - 5 stars" (Metro, 06/2010)
"ACR have hit the ground running on their latest offering. With grinding riffs and one foot in the early 90s, there's a rootsy, DIY feel, a little dark around the edges, with its smudged sounds and almost punk vibe. It's comforting to hear something which sounds absolutely familiar yet totally new. Bloody brilliant" (Chimp, 06/2010)
"Andy Weatherall's favourite band have been around since the late 70s. Clinically executed, this is a must for history lovers and contemporary alt.funkers alike. 8/10" (DJ Magazine, 07/2010)
"Mind Made Up is perfect, lyrical 'head music' but still has that tight rhythmic force which has always driven ACR. Set to be a summer highlight for a new generation and firm fans alike" (hangout.altsounds.com, 05/2010)
"Very much a long awaited return for ACR and easily their strongest work since Force. Without trying to emulate any current scene, Ratio remind everybody of their quality and their true groundbreaking approach to music and also how cyclical style truly is" (funkylittlefockers blogspot.com, 05/2010)
"A gigantic return to form" (The Big Takeover, 09/2010)
"It's fitting that they've now returned, setting up an odd bounce-back echo between their 1977 formation and the current electro-twitch landscape dominated by LCD Soundsystem. Due to present-day nostalgia the ACR approach is once again resonating with a contemporary vitality" (BBC Music, 06/2010)