ltmcd2461.jpg
Dislocation Dance \ Music Music Music + Slip That Disc! [LTMCD 2461]
This expanded remaster combines Dislocation Dance's debut mini-album Slip That Disc! with their first album proper, Music Music Music, both released in 1981 by pioneering Manchester label New Hormones.
Bonus tracks include all tracks from the non-album singles Rosemary and You'll Never, Never Know. Revised artwork, 74 minutes of music music music.
Tracklist:
1. Stand Me Up
2. Don't Knock Me Down
3. YOPS Course
4. Meeting Mum and Dad
5. Friendship
6. Take a Chance (On Romance)
7. ... Have A Dance
8. Roof Is Leaking
9. With a Smile On Your Face and a Frown In Your Heart
10. Vendetta (Theme)
11. Narrow Laughs
12. Footlose
13. Can't Race Time... and the Mad Killer (Coda)
14. Wonder What I'll Do Tomorrow
15. Rosemary
16 Shake
17. Can't Race Time... and the Mad Killer (Version)
18. You'll Never, Never Know
19. You Can Tell
20. Spare Concern
21. I'll See It
22. It's All True... Panic!
23. We Can Work It Out
24. So Much Fault
25. This Problem
26. Clarinet Source
27. Under One and Over
Available on digital (MP3 or FLAC). CD is currently out of stock. To order please first select correct shipping option (UK, Europe or Rest of World) and then click on Add To Cart button below cover image. Digital copies are supplied to customers by link sent by email.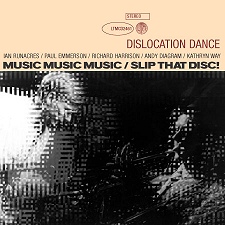 Reviews:
"Dislocation Dance were among those Manchester pioneers who had listened to disco, to funk and maybe to African dance bands, and who really couldn't see the point of going along with the dreary nihilism of punk, instead jamming out some spooky jazz in a post be-bop kind of way. And at 27 tracks you can't argue about fair rations." (Whisperin' & Hollerin', 02/2006)
"Best port of entry into Dislocation Dance is Stereolab. There's the same flighty, monotone female vocal and percolating Euro-manticism, drawing on Latin and Parisian rhythms. Not at all dislocated but smooth, bubbly and serene. Almost Cardigans-esque in fact" (Q, 09/1999)
"Plenty of gems, taking simple pop songs and layering them with intricate jazz overtures is what these guys did best" (Exclaim!, 04/2006)
"This is ratty, slipshod soul - the real mutant disco that lies somewhere between the juicy ripeness of Out Come the Freaks and the desiccation of Death Disco. Northern Soul for Southern soles. Locate this disc and slip your spine before the lateral drinking process prevails. The penultimate party record" (NME, 08/1981)
"Dislocation Dance are the best band in Manchester" (Sounds, 03/1982)
"Beautifully crafted pop songs" (Masterbag, 05/1982)
"This is a record of rare sparkle" (NME, 03/1982)
"Excellent! It's about time Dislocation Dance were acknowledged" (Record Mirror, 06/1982)
"Witty, intelligent and provocative" (City Limits, 11/1981)
"Jam in the doughnut of life" (NME, 03/1982)