The Field Mice \ Snowball + Singles [LTMCD 2419]
Influential South London indiepop band The Field Mice recorded for Sarah Records between 1988 and 1991. Snowball + Singles combines their first album (released as a 10" vinyl in August 1989) with all tracks from their first three singles. Emma's House and Sensitive were released as 7-inchers on Sarah; I Can See Myself Alone Forever was a strictly limited 7-inch on The Caff Corporation, the boutique label curated by Bob Stanley of St Etienne.
Snowball itself includes Let's Kiss And Make Up, the song memorably covered by St Etienne. This expanded CD is completed by hard-to-find compilation track That's All This Is. 17 remastered tracks, with biographical notes in the booklet.
CD tracklist:
1. Let's Kiss and Make Up
2. You're Kidding, Aren't You?
3. End Of the Affair
4. Couldn't Feel Safer
5. This Love Is Not Wrong
6. Everything About You
7. White
8. Letting Go
9. Sensitive
10. When Morning Comes To Town
11. Emma's House
12. When You Sleep
13. Fabulous Friend
14. The Last Letter
15. I Can See Myself Alone Forever
16. Everything About You
17. That's All This Is
SOLD OUT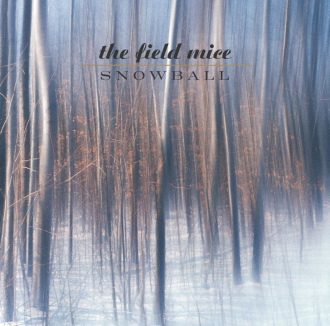 Reviews:
"Exemplary and exhaustive reissues" (Uncut, 04/2005)
"If you have to pick just one, then this is it" (Magnet, 03/2005)
"These three reissues are approaching triumphant. In a quiet, swishing indie-pop sort of way, of course. 4 stars" (Record Collector, 04/2005)
"In innumerable delicate songs about falling in love, breaking up, pining, courting, yearning and just plain hurting, The Field Mice took a painters' eye to young love, examining familiar emotions and sights from every possible angle" (Pitchfork, 2008)
"Opening with the lovely Let's Kiss and Make Up (later covered by St Etienne), the album contains gorgeous melodies, Byrds-ish guitars (you know, "jangly") and an overall low-key tone that echoes both dreams and quiet moments of the afternoon. That atmosphere, together with the precise and personal lyrics about love, made songs as disparate as the late-night farwell The End of the Affair and the more rollicking come-on Everything About You feel really intimate, and powerful in the way that the feelings come through as real" (Erasing Clouds, 02/2005)
"The quiet yet intensely emotional nature of these songs proves that rationality and logic have no influence over the powerfully sensual murmurs of the heart" (The Big Takeover, 03/2005)
"Listen to the pain that throbs throughout End of the Affair like toothache and then try telling me that The Field Mice dealt with nothing more emotive than chocolate stains or a badly grazed knee" (Melody Maker, 1998)
"This band had a lot going for them. End of the Affair is a classic indie weepie, while Let's Kiss and Make Up shows that Wratten and Hiscock were paying attention to the rise of dance culture, and the tumultuous guitar avalanche of White is more redolent of My Bloody Valentine" (Whisperin' & Hollerin', 2/2005)
"Fine ambient pop" (Leonard's Lair, 02/2005)
"Beautiful and sparse pop music" (Other Music, 12/2005)