ltmcd2555.jpg
Auteur Labels \ Factory Records 1987 [LTMCD 2555]
The compilation series Auteur Labels profiles independent record labels with a unique sound, vision and design sensibility, concerned more with art than commerce. This volume looks at releases on Factory Records during 1987.
Tracklist
1. New Order True Faith
2. A Certain Ratio Bootsy (Racic Remix)
3. Happy Mondays 24 Hour Party People
4. Quando Quango Bad Blood
5. Biting Tongues Compressor
6. Durutti Column Catos con Guantes
7. Fadela N'Sel Fik
8. Arthur Baker Come On
9. The Hood Salvation! (Nitro Dub)
10. Pleasure Crew So Good
11. Meat Mouth Meat Mouth Is Murder
12. Miaow When It All Comes Down
13. The Wake Furious Sea
14. Section 25 Bad News Week (The Cough Mix)
SOLD OUT!
Reviews:
"Outstanding compilations, sophisticated scholarship" (The Wire, 08/2008)
"It's easy to think you've already heard the full Factory story, but this disc highlights a chapter in the label's history that's often overlooked" (Boomkat, 06/2009)
"True Faith by New Order opens with a magic moment of indie-dance. Next to expected Factory heroes ACR, DC, SXXV and Happy Mondays manifesto 24 Hour Party People you'll find eternal Factory stepchildren the Wake. Not to forget a Rai-hit by Fadela. An extremely exciting journey" (Westzeit, 07/2010)
"Tasteful selection, great compilation" (The Big Takeover, 09/2010)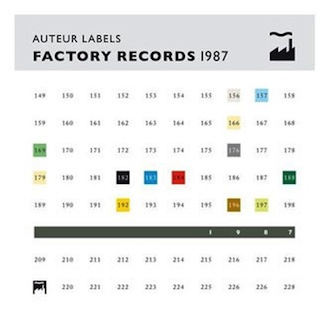 Auteur Labels Factory Records 1987
In a freewheeling interview at the beginning of the year, Tony Wilson considered the past, present and future of Factory Records. 'Our current release schedule is very promising,' the chairman enthused. 'Today The Railway Children, next week Miaow, two weeks after that Happy Mondays - three groups who are all to become major Factory acts. Certainly Happy Mondays should become a major cult band and The Railway Children should become Smiths, and New Orders. There's very little else I like. You see, I'm out of touch with the street, in that between '76 and '81 I knew everything that was being released and I saw a different band each night. But that part of your life passes, and now I rely on other people to tell me what's happening.'
That other person was A&R chief Mike Pickering. Together with Rob Gretton, who had resigned as a Factory director the previous year, Pickering was keen for Factory to embrace dance culture. Wilson, however, considered pure dance music superficial, and lacking in artistic intent. This crucial difference of opinion had already emerged over Cool As Ice by 52nd Street in 1983, and now flared again as House Sound of Chicago migrated from dance floor to chart. 'Rob and I wanted a dance label, but that was knocked back,' Pickering recalls. 'I wanted to be able to sign records from the DJ side of things. You could feel it happening. You'd play the records, and a few months later they'd become chart hits. Me and Rob were always into that side of things, and Tony wasn't. Between Rob and Tony there was always this antagonism. God bless Tony, but I don't think he had the vision Rob had. Tony said dance would never happen. I told him it already was happening. Very frustrating, and so me and my managers went off and founded Deconstruction. Really that was the beginning of a period of waste at Factory, and part of their downfall. Tony was very gracious about it later on, but it was a massive mistake.'
'I don't think Tony got the dance music thing,' confirms fellow Nude Night DJ Graeme Park. 'He accused me and Mike Pickering of destroying The Haçienda because we totally committed the club to dance music, to House. Previously it had been everything and anything. He was right, we did.'
Wilson claimed that the dialectic on dance took a different form, and involved no intellectual prejudice at all. 'Although I'm accused of refusing to let us have a dance label, all I said was that to make money in dance you have to be a good businessman. All we were good at was finding bands no-one else wanted.' In fact The Railway Children soon left Factory for Virgin, and at the end of the year Mike Pickering issued four singles representing several diverse strands of dance culture. Fadela, The Hood, Meat Mouth and Pleasure Crew failed to sell in large numbers, however, and the vexed question of Factory Dance remains unresolved. Factory hardly noticed, since New Order single True Faith and compilation Substance were hits worldwide, and saw the label receive its first million pound cheque from distributor Pinnacle.
1. NEW ORDER True Faith 5.51
7" and 12" single (Fac 183), released July 1987. Produced by Stephen Hague. Written by New Order (Warner Chappell Music). Released under licence from Warner Music UK. Released as the twelfth New Order single on 20 July, True Faith was the finest New Order single since the twin peaks of Blue Monday and The Perfect Kiss and became their biggest hit to date, climbing to #4 on the British chart and #32 in the States. Key to this success was American producer and co-writer Stephen Hague, who developed True Faith and flipside 1963 over ten days at London studio Advision, adding the smooth sequenced sheen previously applied to hits by OMD, Pet Shop Boys and Malcolm McLaren. Indeed but for chart savvy Hague, the band might well have sabotaged this triumph, thanks to a frank lyric addressing drug dependency. 'I don't touch smack,' Sumner revealed, 'but when I wrote that song, I tried to imagine what it's like to be a smackhead, and nothing else matters to you except the day's hit. There's a line in the song, "When I was a very small boy, very small boys talked to me/Now that we've grown up together, they're afraid of what they see." The original was, "Now they're taking drugs with me", but Stephen Hague made us change it because he said it wouldn't be a hit if we kept that line in. He was right. It was a very big hit, but we chickened out. I change it back sometimes live.'
On the subject of producers Stephen Morris offered witty original thinking to rival Marcel Duchamp. 'They've got something that you've not got. It doesn't have to be a producer, you could get a tramp off the street to do a producer's job, because what it does is give you another way of looking at what you're doing. Obviously a tramp wouldn't be so well prepared. You get so involved, it's good to have that fifth view. If you go their way then at the end of the day you come off wiser. They probably do as well because it's all educational. There's always something you can learn. To get stuck into doing the same thing all the time is the worst thing that could happen.'
2. A CERTAIN RATIO Bootsy (Remix) 6.40
12" single (Fac 16612), released by Factory Australasia in November 1987. Remix and edits by Robert Racic. Engineered by Nick Mainsbridge. Written by Johnson/Kerr/Moscrop/Quigley/Connell (EMI Music/Copyright Control). Released under licence from A Certain Ratio. In addition to pin-sharp rhythm and groove, parent album Force (Fact 166) displayed real consistency, and on Bootsy even a measure of pop appeal, courtesy of Swing Out Sister vocalist Corinne Drewery. Unfortunately, Ratio's moment of triumph was tempered by the departure of keyboards virtuoso Andy Connell, after Swing Out Sister cracked the charts in October with Breakout, a hit both in Britain and America. 'I was enjoying being in both bands,' Connell told NME, 'but things came to a head when ACR were getting ready to tour to promote the album the same time as Swing Out Sister were due in the studio. I had to drop out of the tour, but the Ratios have been really good about the whole thing. I'm really proud of most of the stuff we did in ACR, but in some ways I find Swing Out Sister more of a challenge. The original idea was to use what we'd done on UK Electro, but with a girls' voice over it, but since then I've discovered choruses and bridges and things we hadn't bothered with before. To us, it doesn't come naturally to throw in eight bars of hook. It's a challenge to try and make good, intelligent pop singles.' Bootsy was precisely that, although this excellent remix by Robert Racic (an associate of Severed Heads) was released only in Australia.
3. HAPPY MONDAYS 24 Hour Party People 4.38
12" single (Fac 192), released November 1987. Produced and engineered by Dave Young. Written by Happy Mondays. Released under licence from Warner Music UK. Twenty Four Hour Party People, the second single released in 1987, referenced Northern Soul and was appended to the Squirrel & G-Man. album (Fact 170) after Beatles-quoting Desmond was forcibly removed. Out Promotions continued to plug the group hard, with Melody Maker running a major feature in November, citing the Mondays' debut as an album of the year, and lauding the 'gobsmacked racket' of Twenty Four Hour Party People as 'what would have happened if punk had applied itself to funk rather than rock.' NME also succumbed to their charm, James Brown writing of an impressive London showing at the Portland: 'Tonight they were the tightest band I've seen. Far more immediate than most groups, their presence alone is intimidating. Unlike others, they have no interest in the past and very little interest in anyone else's present but their own. Their music is unavoidably individualistic, they have far too many rough edges for them ever to become polished smooth. Watching them jerk away on stage, six strong, confident, playing off the power of their collective personality, I see a band that in the future will come to be spoken of in the same breath as Joy Division and The Fall.' However, for the Mondays the present still consisted of small pub venues like the Portland, and despite an eye-catching video directed by Phil Shotton and Keith Jobling (better known as The Bailey Brothers) with Richard Heslop, Twenty Four Hour Party People stalled at #10 on the indie chart.
4. QUANDO QUANGO Bad Blood 4.25
12" single (Fac 156), unreleased. Produced by Mark Kamins. Written by M Pickering/H Rietveld (LTM Songs). Released under licence from Quando Quango. Mike Pickering's rising stock as a club DJ served to hasten the demise of electro dance group Quando Quango. The band had been struggling for a while, having overspent on recording an album that sold fewer copies than anticipated, and hamstrung by a number of personal issues, including the breakdown of the Pickering-Rietveld marriage. Bad Blood, a brassy, upbeat pop single originally recorded with guest vocals from Lisa Stansfield, was produced by Mark Kamins and shopped to various larger labels by new managers Keith Blackhurst and Pete Hadfield, but nothing came of these approaches and Fac 156 remained unreleased. 'We were going nowhere with Quando Quango,' admits Pickering. 'My relationship with Gonnie was getting more and more awkward. We'd been married, and it just got harder and harder. Massive fights in dressing rooms, that kind of thing. Going up and down the M6 and M1 in Transit vans and playing at a student union, half-full. Then the DJ thing started to take off for me, and I thought - you know what, I'm just going to be a DJ for a while. You can at least get in your own zone, where no-one will bother you.'
5. BITING TONGUES Compressor 4.52
12" single (Fac 188), released October 1987. Produced at Yellow 2 by Chris Nagle. Written and arranged by by Barnish/Kirby/Walmsley/Massey/Steer (MCPS). Released under licence from Biting Tongues. Veterans of Rafters, the Russell and the Beach Club, the line-up that recorded the EPs Trouble Hand (Fac 134) and Compressor (Fac 188) was unrecognizable from the Tongues of New Hormones and Feverhouse, with Howard Walmsley, Graham Massey and Phil Kirby lately now augmented by bassist Mark Derby and Tom Barnish on trombone. Less sharp and angular than on previous records, the revised line-up blended elements of jazz, funk, noise, Afrobeat and Harmolodics to thunderous effect. 'Factory had no idea who we were or what we did,' says Walmsley, 'but they did appreciate our energy. Tony was on record as saying he didn't like jazz, didn't want anything to do with anything remotely connected to it. We were very connected to jazz, but I think they understood our position and the kind of intention of what we were trying to do, which was kind of beyond and outside of the music.'
6. THE DURUTTI COLUMN Catos con Guantes 8.41
From 12" single (Fac 184), released August 1987. Produced by Stephen Street. Recorded and mixed at Strawberry Studios, Stockport. Written by Vini Reilly (Zomba Music). Released under licence from The Durutti Column. This Spanish styled guitar track trailed the sixth Durutti album, The Guitar and Other Machines (Fact 204), produced by Smiths collaborator Stephen Street. At the end of the year Vini Reilly would record Viva Hate with Morrissey, a UK #1 album. 'I've always known that people don't rush out and buy my records as if their lives depended on it,' offered Reilly, always his own harshest critic. 'People only get to hear my records when they're over talking or making love at someone else's house. It is disappointing. But maybe I deserve that disappointment. I deserve that slightly indifferent attitude because, let's face it, my music just hasn't cut it. Every album I've made has been duff. It may be better than the others but it's still closer to being duff than it is to being brilliant. That's the truth.'
Reilly shrugged off protestations from journalist Donald McCrae, and a pained expression from press officer Dave Harper. 'Oh, I dunno. Dave also knows that my records are mostly duff. But there's quite a strange process behind my response to my own records. When I record an LP I usually think it's quite good until it's pointed out to me that my music is regarded as being ambient music by most people. This means that I've failed because people are supposed to listen to my music rather than just use it as a backdrop to something else they're doing. I haven't done my job properly then. When it eventually happens that I record an LP that I'm really happy with, it'll be time for me to be led out into the yard to be shot. But I think I'll probably be senile before that happens. My music is naÔve, not laboured over. Once the effect's achieved, I leave it. I try not to talk about what the music is, or how it works. Instead I try to forget.'
7. FADELA N'Sel Fik 7.12
12" single (Fac 197), released November 1987. Remixed by Mike Pickering. Written by Mohammed Sahraoui/Fadela Zelmat (Because Music). Originally released under licence from Attitude Records, Paris. The grand narrative in which Tony Wilson declined to enter the dance market is partially contradicted by four 12-inch singles issued by Factory during October and November. Three of the four were produced and A&R-ed by Mike Pickering, yet curiously none bore any relationship to House music, a style he seemed content to reserve for his own recordings with T-Coy. Instead, the disparate dance styles arrayed across Facs 169, 182, 196 and 197 ranged from electro and pop-soul to hip-hop and Algerian Rai. Factory even tested the waters of specialist marketing, distributing a fat white label promo bundle, some of which also plugged new Haçienda club night Zumbar. None of the four singles sold well, however, and only superior Rai track N'Sel Fik by Fadela really impressed, having been selected after Pickering heard the exotic Arabic-disco hybrid at Mark Kamins' Harem club in New York. 'Mark talked Tony into licensing Fadela and I remixed it,' says Pickering. Born in Oran, musician and actress Chaba Fadela was based in Paris, and found significant international success with N'Sel Fik ('you are mine') in various forms. Dressed in an apt Johnson Panas sleeve, the Factory single was well received, and was even included by Wilson on the Palatine box set (Fact 400) in 1991.
8. ARTHUR BAKER Come On 2.44
From the 1987 film soundtrack of Salvation!, LP released through Factory Australasia (CBS/Fact 182). Produced by Arthur Baker. Written by Arthur Baker and Angelo (Copyright Control). Released under licence from Arthur Baker. Originally a club DJ in Boston, Arthur Baker arrived in New York in 1981 and worked for hip-hop label Tommy Boy, where he cut the groundbreaking Planet Rock by Afrika Bambaataa and Soul Sonic Force, a hit single in the summer of 1982. Planet Rock combined elements appropriated from two Kraftwerk tracks, Trans Europe Express and Numbers, and sold 680,000 copies in the States, in the process sparking a whole new genre: electro. Soon afterwards Baker repeated the trick with Walking On Sunshine by Rocker's Revenge, which topped the Billboard dance chart in September. In February 1983 New Order traveled to New York to record Confusion with baker, who also co-wrote Thieves Like Us.
9. THE HOOD Salvation! (Nitro Dub Edit) 6.57
12" single (Fac 182), released October 1987. Produced by Arthur Baker. Remixed by Junior Vasquez. Written by John Hood/Arthur Baker (Copyright Control). Released under licence from The Hood. The Hood was a pseudonym for John Prosser, an Arthur Baker cohort who also released a single (Tough Guys Don't Dance) and album (Cooler Than Thou) through Crepuscule. The soundtrack single Salvation! (Have You Said Your Prayers Today?) is presented here in an edited mix by Junior Vasquez that works way better than the parent movie. Interviewed by Jonh Wilde, writer/director Beth Billingsly hedged furiously: 'The film is definitely a nightmare and it's meant to be like that. It also has a very distinctive sense of humour which is serious and unserious at the same time. The mixture of humour and horror are the most difficult things to balance. You didn't laugh once? Well, that's one reaction!'
10. PLEASURE CREW So Good (Airwave Mix) 3.59
12" single (Fac 169), released October 1987. Produced by Mike Pickering and Tim Oliver (TcO). Engineered by Tim Oliver. Written by Noel Taylor and Himat Singh (Davenhall Music). Released in association with Davenhall Music. In some respects this dance pop single would have been more at home on Deconstruction that Factory, and inevitably suffered the same commercial fate as Reach For Love by Marcel King in 1984. Also known as I Could Be So Good For You, the single came with a Pickering-inspired press release which doubled as a populist dance manifesto: 'Noel Taylor was the former vocalist and guitarist for Adventure. Adventure's prophetic dance floor sound was destined for a wide audience, but they disbanded before the curtain went up. Noel then met Himat 'Chester' Singh, a pent [sic] percussionist. Both had a common dislike of band compromise and a common love of song and dance. TcO, Manchester's big and hot production, was brought in and the kettle was on. So Good has emerged like a bingo number from the bubble box. So Good is a disc designed for movement. It means what you like, but it's a means to move. Pleasure Crew are one of the new generation of acts emerging as the club sound commands a wider acceptability. The combined influence of the club DJs is now threatening the supremacy of the radio DJs. Pleasure Crew are intent on bringing song into dance music, adding an emotive force to the obvious motive one.'
11. MEAT MOUTH Meat Mouth Is Murder 4.40
12" single (Fac 196), released October 1987. Produced by Mike Pickering and Tim Oliver. Written by Blincoe/O'Keeffe/Whittam (Ron Johnson Music). Released under licence from Meat Mouth. Hip-hop duo Meat Mouth comprised art students Nicholas Blincoe and Mark Whittam, fresh out the projects of Rochdale. 'In 1986 we were listening to a lot of Def Jam and Beastie Boys,' says Blincoe. 'We did our own demo at Lisa Stansfield's studio over Christmas and sent this to a few labels, including On-U Sound and Factory. Mike Pickering responded really quickly. There wasn't that much English hip-hop around at the time. Mike and Tony Wilson both liked the fact that we were rapping in our own accents, and referencing Manchester culture. Our single Meat Mouth Is Murder was recorded at Suite 16 by Mike and Tim Oliver, then operating under the name Pop, by which time we'd invited Greg O'Keeffe from Big Flame to join us. We were completely serious about Meat Mouth, but it's not a fantastic record. There are layers of feedback all over it, which made it hard to listen to. The cover art was a blatant rip-off of Basquiat.'
Lyrics such as 'Talking to the girls, they all say the same/They think that we're cute, but they fancy Big Flame' drew a mixed response from hipsters, but at least NME reviewer Simon Witter caught their drift: 'A Beastie whine with sickly northern accents and The Haçienda substituted for White Castle. You get a hip-hop beat, wannabe Gang of Four guitar, chants from Trouble Funk and Cameo and Manc-rap. What a great record!' In November, the trio toured as support to Wilson-endorsed chart hopefuls Age of Chance, a favour called in by Greg O'Keeffe. Here Meat Mouth were hardly keeping it real, as Blincoe confirms. 'Even by then we only had twenty minutes of material. I took two months off university for the tour, but our single hadn't sold that well. Basically I decided I wanted to get a first class degree, rather than an average grade and maybe another low-selling hip-hop single. So that was the end of Meat Mouth. And, yes, I did get a First.' Blincoe would go on to forge a career as an author, critic and screenwriter, placing a Haçienda-style superclub at the centre of Acid Casuals, his acclaimed first novel published in 1995.
12. MIAOW When It All Comes Down 3.29
7" and 12" single (Fac 179), released January 1987. Produced by Paul Kendall. Written by Caine/Carroll/Fenner (MCPS). Released under licence from Lilypad Records. Visible from 1985 onwards, Cath Carroll's guitar-based beat group Miaow had become a regular fixture on the London indie circuit, supporting bands as varied as The Go-Betweens, Sonic Youth and Butthole Surfers, and contributing a track to shambling NME genre compilation C86. Debut Miaow single Belle Vue appeared at the beginning of 1985 on their own Venus label, followed by a Peel session in June. Carroll's striking good looks, with caps and cheekbones apparently inherited from FranÁoise Hardy, saw Miaow rewarded with endless column inches in the music weeklies, even if her dual role as an NME contributor caused some to doubt her authenticity as a musician. On the subject of these divided loyalties, Carroll was disarmingly candid, advising Melody Maker that 'the journalism is just till we get somewhere with the band.' Miaow duly got somewhere that autumn, after publicist Dave Harper passed an advance tape of second single When It All Comes Down to Tony Wilson, who promptly fell in love with Carroll's eyes. When It All Comes Down, arrived in January in a sleeve featuring a gaudy portrait of St Jude. 'He's the patron saint of hopeless cases,' offered Carroll. 'He's the one you pray to for a miracle, and then, if he does something for you, you publish a "Thanks to St Jude" in the classified columns of your local paper. He did something for me once, so I've put him on the cover.' While the sleeve of Fac 179 was indeed slightly hopeless, the record inside showed great promise, praised as 'fast-flowing, flighty guitar-driven pop' by Carroll's colleagues at NME, and worthy of compare to The Raincoats and Blondie.
13. THE WAKE Furious Sea 3.51
From the 12" EP Something No-one Else Could Bring (Fac 176), released November 1987. Produced and engineered by John Leckie. Written by McInulty/Allen/Allen (LTM Songs). Released under licence from The Wake/LTM. By 1987 Glasgow indiepop band The Wake found themselves increasingly at odds with Factory. Wilson liked Caesar's voice, but disliked the fact that the band had no manager. Issued in November, their final single for the label was recorded with veteran producer John Leckie, soon to transform the fortunes of the Stone Roses. 'We thought we'd like to try something different,' relates Caesar. 'John was very orientated towards the Sixties and psychedelia, into phasing and backwards parts, and organs, which was fine by us as by then we wanted to get away from string synth sounds.'
However, the Glasgow group had felt increasingly distanced from Factory since attending the Tenth Summer event at G-Mex the previous July. 'We'd lost touch with Rob Gretton, though at the time we didn't understand why. Then a fight over the artwork made it clear that there wasn't much of a future for us at Factory. Tony wanted Johnson-Panas to design the sleeve, but what they proposed looked like an ACR record, dance, whereas we were more pop. Tony gave in and scrapped it, but I could tell he wasn't happy. We wanted something a bit cheap looking, more post-punky, like The Fall. I discussed it with Alan Erasmus, who said we wanted something more Rugby League than Rugby Union. I had to go away and find out what that meant exactly. At that stage the dialogue was still friendly, so we sent down our own idea, which was put together by a company called Realisation. But after that Tony called me, and launched into a bit of a tirade about how our cover just wasn't Factory. We had an argument about different notions of artistic freedom, basically. Then when Something No-One Else Could Bring came out we felt like it was buried, and not as widely available as previous records. So we kind of felt squeezed out, and fell out. We went on to record two albums for Sarah, and I vented my frustration with Factory in a song called Joke Shop.'
14. SECTION 25 Bad News Week (The Cough Mix) 7.45
12" single (Fac 157), released May 1987. Produced by Larry Cassidy. Remixed by Bernard Sumner. Engineered by Chris Nagle. Recorded at Park Lane. Remixed at Yellow 2. Written by King (Jonjo Music). Released under licence from Section 25. The fourth Section 25 album Love & Hate was recorded by Larry and Jenny Cassidy in 1986, after the successful electro line-up of the group splintered late the previous year. Factory effectively shelved the album for two years, though two versions of Bad News Week remixed by Bernard Sumner were issued as Fac 157 in a Mark Farrow sleeve. The single was promptly withdrawn after Jonathan King claimed the lyrics were an unauthorised parody of his 1965 single It's Good News Week, released as Hedgehoppers Anonymous. Love & Hate finally crept out as Fact 160 in 1988. An explanatory letter to NME from Larry told a tale of almost Biblical woe. 'Having stumbled over Jonathan King and Good News Week, the graphics artist we commissioned to do the sleeves sort of disappeared from view for months, eventually surfacing to claim that he didn't know he had to do the album. Months became years. Meanwhile my relationship with Tina Simmons, the label's helmswoman, went through as many polarities as it's possible to go through in a telephone relationship. Tony Wilson's line is that "they need a manager." What he really means is, "they'll manage." Still, AHW's got a difficult job. I mean, you try and equate Karl Marx, capitalism, Situationism and build The Haçienda at the same time. If this sounds bitter, it is. But not too bitter.'
Sleevenote extracted from Shadowplayers: The Rise and Fall of Factory Records by James Nice (Aurum Press, 2010). Cover design by Phillip Pennington (2010)