The Passage \ Degenerates [LTMCD 2361]
Degenerates, the third and most popular Passage album, originally appeared in 1982 on Cherry Red Records.
Dick Witts and Andrew Wilson are joined here by short-stay drummer Paul Mahoney, with stand-out tracks including indie hit single Xoyo and well as Born Every Minute, Go To Seed and Love Is As. The five bonus tracks include non-album single Taboos, as well as b-sides.
Tracklist:
1. Xoyo
2. Fleck
3. Revelation
4. Love Is As
5. Born Every Minute
6. (Ourselves)
7. Go to Seed
8. Armour
9. Time Will Tell
10. Empty Words
11. Xoyo (7" version)
12. Animal In Me
13. Born Every Minute (flexi)
14. Taboos
15. Taboodub
Available on CD only. To order CD please select correct shipping option and click on Add To Cart button below cover image, or else contact LTM by email for other payment options.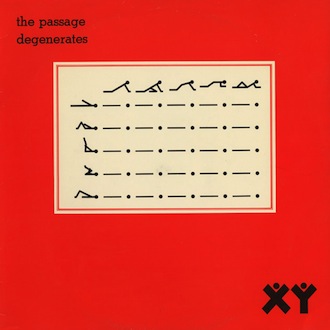 Reviews:
"How on earth XoYo missed the charts must remain forever a mystery" (Q, 07/2003)
"By turns lugubrious and ecstatic, no amount of intellectual experimentalism can disguise the fact that The Passage also produced some great pop and furious rock n' roll" (Les Inrockuptibles, 02/2012)
"Their most distinguished album yet, and the most complete pop record I've heard for three years. Degenerates focuses magnificently upon the real world" (Melody Maker, 06/1982)
"Perfectionist and pertinent presenters of multi-dimensional pop" (NME, 07/1982)
"Their sophisticated subversion is mostly fabulous stuff" (Smash Hits, 05/1982)
"Undeservedly forgotten" (Uncut, 06/2003)
"The experimental ethos of Cabaret Voltaire, the politik idealism of The Fall and the tunes of the Buzzcocks. Ten charming treasures of skewed technopop" (Tangents, 04/2003)
"The whiff of subversion still hangs heavily over virtually all the tracks and the likes of Fleck, Revelation and the fiery Go To Seed retain the dark truculance of the band's earlier work" (Whisperin' & Hollerin', 06/2003)