ltmcd2442.jpg
The Orchids \ Lyceum + Singles [LTMCD 2442]
Lyceum by The Orchids was originally issued as a mini-album by Sarah Records in 1989. Now expanded and remastered, the CD runs for 74 minutes and offers 20 tracks, along with liner notes by Tangents writer Alistair Fitchett.
Stand-out songs on Lyceum include It's Only Obvious, the punk-rock rush of Caveman and minor chord gem Blue Light. Among the pick of the twelve bonus tracks are Tiny Words, Yawn, and anti-Poll Tax protest song Defy the Law. Also included are both sides of a limited editiopn 7" single released on Bob Stanley's Caff label.
CD tracklist:
1. It's Only Obvious
2. A Place Called Home
3. Caveman
4. The York Song
5. Carrole-Anne
6. Hold On
7. Blue Light
8. If You Can't Find Love
9. I've Got a Habit
10. Apologies
11. Give Me Some Peppermint Freedom
12. Defy the Law
13. Underneath the Window Underneath the Sink
14. Tiny Words
15. Walter
16. What Will We Do Next
17. As Time Goes By
18. Yawn
19. An Ill Wind That Blows
20. All Those Things
CD IS CURRENTLY OUT OF STOCK. To order please select correct shipping option and click on Add To Cart button below cover image, or else contact LTM by email for other payment options.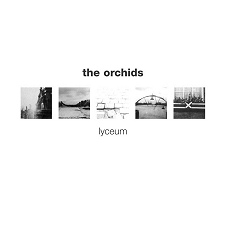 Reviews:
"Exemplary reissue of Postcard-pretty twangle" (Uncut, 10/2005)
"Another fountainhead of unqualified greatness" (Melody Maker, 1990)
"Splendid - 8/10" (NME, 1989)
"Apologies is a lost jangly pop gem, and even more interesting is Yawn, where the group begins to understand space and atmosphere" (Leonard's Lair, 09/2005)
"It's Only Obvious is a winsome, old skool indie-pop rush of a thing featuring the first flush chorus 'who needs tomorrow?'" (Whisperin' & Hollerin', 10/2005)
"If ever a band needed their back catalogue reissued, it's The Orchids, who evolved in a far more dignified fashion than their contemporaries. They brought topgether all the best parts of the 80's Scottish music scene, a wonderful mix of Orange Juice, Aztec Camera, The Pastels and their ilk, while adding something that's hard to pin down, yet made them so very special" (Exclaim!, 11/2005)