ltmcd2331.jpg
Tuxedomoon \ Soundtracks + Urban Leisure [LTMCD 2331]
A collection of vintage Tuxedomoon material recorded for films and staged performances.
Film soundtracks featured are Plan Delta (1986) and The Field of Honour (1983), alongside the experimental Urban Leisure Suite from 1980, and the full BRT radio orchestrations of three tracks from The Ghost Sonata (1982).
Cover design by Andrew Prinz.
Tracklist:
1. The Bridge
2. Celebration Futur de la Divine
3. Nimrod
4. Lop Lop's People
5. Urban Leisure Pts 1-4
6. Fanfare
7. No-One Expects the Spanish Inquisition
8. Driving to Verdun
9. Music #2
10. Licorice Stick Ostinato
11. Basso Pomade
12. Celebration Futur de la Divine (live)
Available on digital (MP3). CD is currently out of print.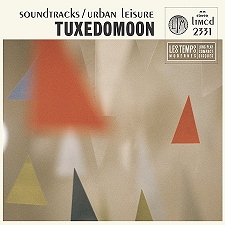 Reviews:
"Maintains its tension very well. With its spiralling electronica, austere strings, wailing guitars and mournful saxes, you imagine it's going to collapse under the weight of its own portentiousness, but it's forever shape-shifting and stimulating" (Uncut, 9/2002)
"Magnificently packaged Cold Wave mists and biting electronic particles. Remarkable" (Les Inrockuptibles, 9/2002)
"Tracks range from a sophisticated, urban and modern Martin Denny-like soundtrack feel to a surprisingly 'post-rock-like' downtempo mood music. Timeless, necessary and enlightening" (Other Music, 10/2002)
"Impressionistic in ways both broodingly martial and woozily arch, layered onomatopoeic orchestrals and absurdist horns vie with minimalist piano and primitive electronics" (Glasgow Herald, 6/2002)
"The Ghost Sonata is intense, dramatic, chilling - as ambient as a knife in your back" (Select, 3/1991)
"Ghost Sonata is a tiny masterpiece of sorts, and captures Tuxedomoon's rarified, quixotic melancholy at its peak" (Q, 5/1991)