ltmcd2452.jpg
Isabelle Antena L'Alphabet du Plaisir (Best Of 1982-2005) [LTMCD 2452]
This Best Of collection features 20 songs by Isabelle Antena, including singles and key album tracks as well as several songs by the original Antena trio.
From the electro-samba of debut single The Boy From Ipanema (1982) to the pin-sharp jazz vamp of Omerta Bossa (2005), this primer set is a rhythmic A to Z of pure pleasure. CD booklet features archive images and detailed liner notes.
Tracklist
1. The Boy From Ipanema
2. Camino del Sol
3. Seaside Weekend
4. Be-Pop
5. Laying On the Sofa
6. Le Poisson des mers du sud
7. Je Respire
8. Eclat de Nuit
9. Ce Mortel Ennui
10. Antena
11. Serpent â Plumes
12. Sur ton Ile
13. Deux Enfants
14. La Raison du Plus Cool
15. Sous tes Paupieres Closes
16. Le Temps qui Court
17. Eternity
18. Nothing to Lose
19. Omerta Bossa
20. Antenacidjazz
CD IS SOLD OUT!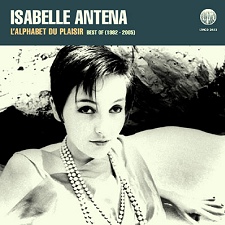 Reviews:
"A fruit of early '80s adventures in genre, Antena determined to combine a love of bossa nova, chanson, disco and synth-pop. Their debut, the John Foxx-produced Boy From Ipanema, still sounds delightfully fresh, like a Ze records Bananarama. By 1983 Isabelle was solo, and this compilation tracks her progress from stylish contemporary of Sade to Benelux legend and winding up the chic choice of acid jazzers, the Japanese, and Thievery Corporation in the 21st Century" (Uncut, 01/2006)
"Her music is a mix of Brazilian jazz, funk and soul and the result is absolutely breathtaking. L'Alphabet... is an album packed with 20 beautiful tracks full of energy, life and passion. A real treat!" (Whisperin' & Hollerin', 12/2005)