ltmcd2448.jpg
Isabelle Antena \ On A Warm Summer Night (Tous Mes Caprices) [LTMCD 2448]
On A Warm Summer Night is Isabelle's third solo album, originally released on Crépuscule in 1988 as Tous Mes Caprices, and retitled for Japan.
Produced by Isabelle and Martin Hayles, the album mixes uptempo funk with straight jazz and ballads. The 16 tracks include a song co-written with French film soundtrack maestro Gabriel Yared (Eclat de Nuit), as well as a chilled samba arrangement of Frank Zappa's Village of the Sun.
56 minutes of music, with 5 bonus tracks recorded live in Japan in June 1991.
CD tracklist:
1. Caprices
2. Sept Heure Que J'aime
3. Romancia del Amor
4. Eclat de Nuit
5. Une Journée Banale â New York City
6. Je Respire
7. From Day to Day
8. Memories
9. Young Captive
10. Village of the Sun
11. Time to Work
12. Romancia del Amor (live)
13. Une Journée Banale â New York City (live)
14. Eclat de Nuit (live)
15. Easy Living (live)
16. Be-Pop (live)
Available on CD only. To order CD please first select correct shipping option (UK, Europe or Rest of World) and then click on Add To Cart button below cover image.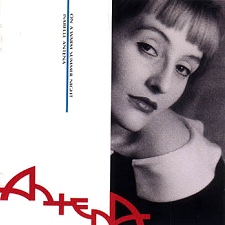 Reviews:
"Isabelle had initially wanted to cut a pure jazz album at the start. While the end result turned out differently, hearing her beautiful, warm voice in playful excelsis on the Brazilian-tinged cool sass of Romancia del Amor (with some great, trickily arranged backing vocals as a subtle but key element) as well as cool, moody beauties like Je Respire, is reason enough to listen. Cuts like Eclat de Nuit, and especially the vibrant Une Journee Banale a New York City, bursting with mid-20th century vocal vamps and big band arrangements, hint at the album's original plan, while other songs like Memories provide enjoyable takes on more recent dance grooves" (All Music Guide, 2005)