ltmcd2465.jpg
Antena \ Camino del Sol [LTMCD 2465]
Camino del Sol by Antena was originally issued as a six track mini-album on Les Disques du Crépuscule in 1982.
The trio's ground breaking mix of Kraftwerk, Suicide and the breezy Gilberto tropicalia still sounds just as fresh as it did in 1982, when John Foxx produced their debut 12" single, The Boy From Ipanema, and future Pet Shop Boy Neil Tennant tagged them "electro-samba". Echoes of the Antena sound can be heard in artists as diverse as Stereolab, Tortoise and Thievery Corporation.
This expanded edition of Camino del Sol boasts no less than 16 tracks, with the five songs from the original vinyl issue joined by four issued on The Boy From Ipanema together with a selection of rare demo and compilation tracks.
Artwork by Benoît Hennebert.
CD tracklist
1. Camino del Sol
2. To Climb the Cliff
3. Silly Things
4. Sissexa
5. Achilles
6. Bye Bye Papaye
7. Noelle à Hawai
8. Les Demoiselles de Rochefort
9. Spiral Staircase
10. Unable
11. The Boy From Ipanema
12. Seaside Weekend
13. Frantz
14. Ingenuous
15. Joppo + Eno
16. On the Boat
SOLD OUT! Now available as a double-disc set on Les Disques du Crépuscule (TWI 114 CD)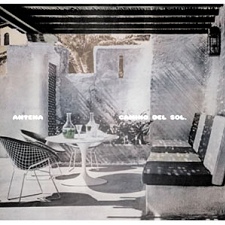 Reviews:
"Wistful, seductive and strangely narcotic… Leads you breathlessly through a lush electronic garden" (Melody Maker, 1983)
"Five songs of sultry splendour" (NME, 1983)
"This essential collection of their entire recorded output is 2005's most charming musical surprise. The route map of early 1980s indie pop is currently being rewritten on a daily basis and Antena merit a chapter of their own, complementing the similarly unearthed and now highly respected ESG. Isabelle Powaga, Sylvain Fasy and Pascale Moiroud formed Antena in 1981, and created a radical and intuitive fusion of bossa nova, archaic samba-jazz and primitive Kraftwerkisms, and signed with Belgian label Crepuscule. Opening track Camino Del Sol sets the mood and could almost be Stereolab, but is so skeletal that the only possible contemporary influence must have been Young Marble Giants. Antena laid the ground for Stereolab and Bebel Gilberto without even knowing it" (Mojo, 12/2005)
"Antena offered a brave art bossa nova design comparable to Weekend and Lizzy Mercier Descloux. The ironic 'tropical wave' and easy listening aesthetic stands the test of time, and since Antena have been less imitated than Young Marble Giants they still sound surprisingly fresh. Includes ten bonus tracks and the usual excellent LTM booklet" (Spex, 5/2006)
"Twenty-four years on, Isabelle Powaga and her co-conspirators retain a sparkle that has deserted so many of their contemporaries over the years. Electro samba is superficially correct, but there are other forces at play. They cleave to the two-fingers Casio school, or a Farfisa electric piano sound, minimal drum machine settings, and Powaga's melancholy voice. What rescues their charming balladeering from the faux-naif is their evident affection for the genre, but also their sly philosophy of subverting it. I'd love to see them on either side of the camera in a remake of Jules et Jim" (The Wire, 7/2006)
"Will I be forever fated to like things that sound a bit like bloody Stereolab, I wonder? I'm not complaining when that thing is Antena, the French electro-space-bossa trio whose 1982 debut has now been agreeably re-presented (with tons of extra tracks) for a more understanding listenership. Antena were always a bit of a cult concern, but it's hard to see why. Granted, their odd little indie sambas were vivacious, wispy and possibly out of kilter with the dour post-punk times. OK, they did blend drum machines with Brazilian percussion, Kraftwerkian synths and Gilberto/Hardy vocals, and perhaps it wasn't so easy to get Tropicalia records back then. Maybe they seemed too kitschy: too happy, too light, too frivolous. But they're perfect right now. Stand-out tracks include Spiral Staircase, with a frantic motorik and cheap drumrolls framing a breathless, detached vocal and a twinkling synth straight off Gary Numan; and Achilles, a brilliant, sinister, synergistic masterpiece that sound like Showroom Dummies in a Sao Paulo jazz club, with Alison Statton of Young Marble Giants and Oz Mutantes on vocals" (Plan B, 6-7/2006)