ltmcd2432.jpg
Isabelle Antena \ En Cavale + Singles [LTMCD 2432]
Originally released on Les Disques du Crépuscule in 1986, En Cavale ('on the run') marks Isabelle's transition from minimalist electro-samba to smooth pop sophisticate.
Largely produced by Martin Hayles (Orange Juice, Daryl Hall), the album's cosmopolitan dance-pop stylings embrace disco (Be Pop, Don't Think About It), latin-jazz (Play Back) and chilled ballads (Seaside Weekend, Ten Minutes). Little wonder, for at the time Antena cited Stan Getz, Astrud Gilberto, Chic and Sister Sledge as major influences.
Running for 70 minutes, this remastered CD includes seven bonus tracks including a rare 12" single issued on New Dance in 1984. Cover art by Benoît Hennebert.
Tracklist:
1. Play Back
2. Easy Street
3. Seaside Weekend
4. Ten Minutes
5. How Can They Tell?
6. Be Pop
7. Magic Words
8. Booby Trap
9. Life Is Too Short
10. Don't Think About It
11. Time to Work (12" version)
12. Blow the World Away (7" version)
13. Mummy's Not at Home Tonight (12" version)
14. Be Pop (12" version)
15. Life Is Too Short (New Dance version)
16. Behind the Door (New Dance version)
Please note: LTMCD 2432 is deleted and now available as TWI 610 CD.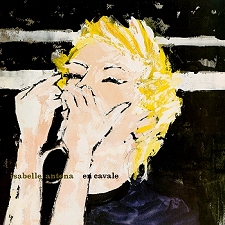 Reviews:
"Effortlessly sleek and undeniably sensual" (NME, 09/1984)
"Isabelle quite possibly bears one of the finest voices of the last 20 years of popular (or unpopular) music. She stands on her own actually so suited is her voice for the warm breeze tones that whirls around these discs, so comfortable her attitude is mirrored in the jocularity of South America, the laziness of Spain and the scented beauty of the South of France" (The Big Takeover, 3/2005)
"That Isabelle Antena didn't make a bigger splash with this album at the time is downright remarkable, though at least those who listen to it now will be well rewarded" (All Music Guide, 04/2005)